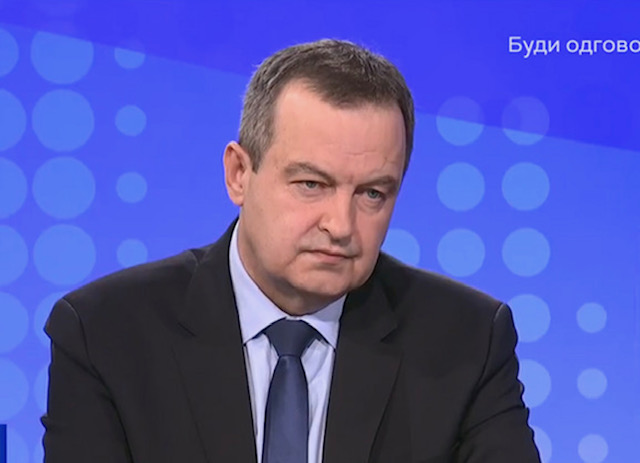 Serbian Foreign Minister Ivica Dačić reacted immediately to accusations made by Montenegrin President Milo Đukanović in an interview, where he accuses the Serbian President for having given strong media support to wider Serb nationalism in Montenegro.
"Unlike Rama, Haradinaj and other Albanian politicians, as well as Muslim leaders, Serbia and its President Aleksandar Vučić have never interfered in Montenegro's internal affairs", Dačić said.
"Vučić did not tell the citizens of Montenegro who to vote for, but Rama and the others did, and this, according to Milo Đukanović, is not interference in internal affairs. Serbia is not interested in the issue of power in Montenegro, we are only interested in the rights and freedoms of Serbian citizens living in Montenegro, which is about 29%, as well as the position of the Serbian Orthodox Church, whose assets and sanctuaries have been targeted by Montenegrin authorities, Dačić told Tanjug, adding that this is a legitimate right of Serbia under all international conventions.
"All this is aimed at the Serb and the Montenegrin living in peace and brotherly harmony, as they have lived for centuries. It is a pity that Milo Đukanović is attacking Serbia and Aleksandar Vučić for interfering in the internal affairs of Montenegro, while interfering directly in the internal affairs of Serbia by recognizing Kosovo", Dačić added.
The Serbian minister also stressed that the time had come for Đukanović to stop intimidating Montenegro with the alleged Serbian hegemony, adding that this tactic had failed in the elections.
"30 years ago, Milo Đukanović said that he was proud of his Serbian origin and the state of Montenegro, lies then or lies now? Dačić wondered, adding that "this is an issue for the citizens and residents of Montenegro".
"The only thing is that Serbia is not lying about the alleged intervention of Serbia and Vučić and the policy of Greater Serbia. In conclusion, why does Đukanović, as he says, remember the Greater Serbia triangle of Belgrade, Banja Luka and Podgorica, and not the Greater Albania Square of Tirana, Pristina, Skopje and Podgorica? It seems clear to everyone why", Ivica Dačić concluded./ibna