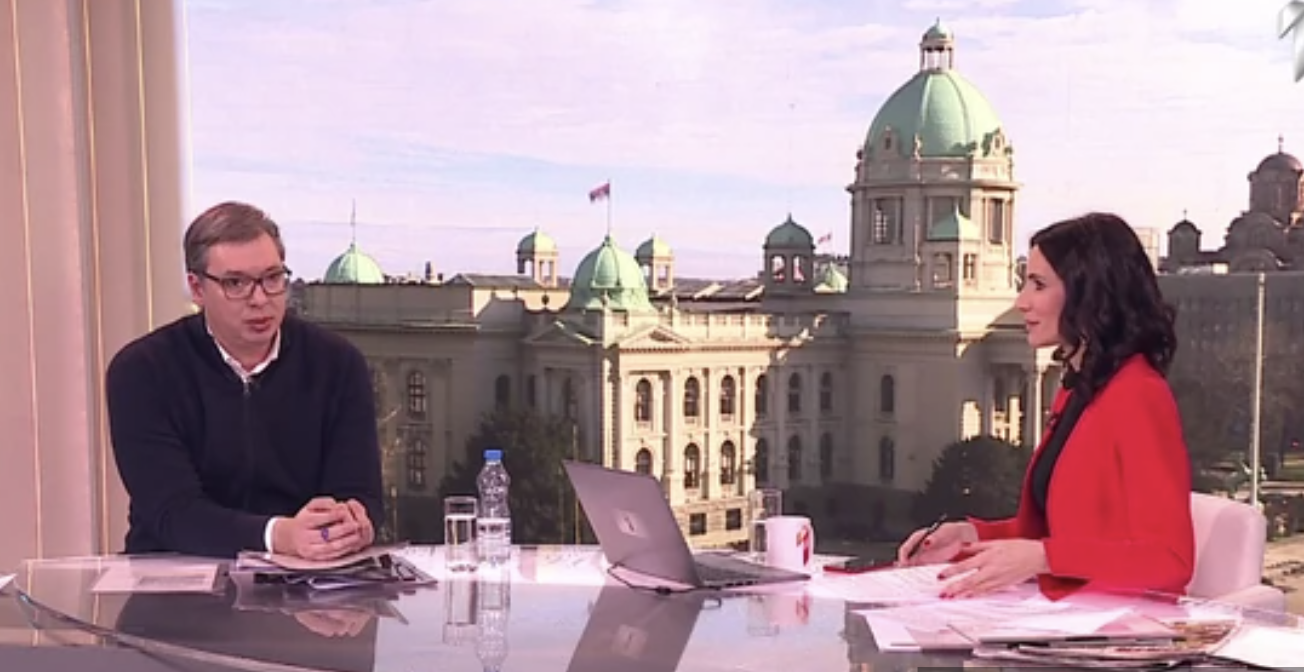 The mass vaccination of the general population in Serbia, which started on January 19 continues, with more than 30,000 vaccinations being performed daily.
Serbia has already prepaid for 6.8 million vaccines from Pfizer-Biontech, Sputnik-V, Sinopharm, Moderna and Astrazeneca. According to the latest data, Serbia has received about 100 thousand doses of the Pfizer-Biontech vaccine, 2,400 doses of Sputnik-V and another 500 thousand doses are expected to arrive next week. The doses from Sinopharm's SinoVAc amount to 1 million, while another million is expected in January. A batch of 800 thousand doses of Astrazeneca is expected to arrive in early February. The authorities estimate that by the beginning of June, a sufficient number of citizens will have been vaccinated in order to create conditions for general immunity.
Serbian President Aleksandar Vučić spoke about the progress of the vaccination and the supply of vaccines on Prva TV on Sunday.
"We had sleepless nights talking to world leaders. Many countries in the region do not have the vaccine. "At the moment, only small Malta is ahead of us in Europe in terms of the number of people vaccinated per 100,000 inhabitants", said the Serbian president, adding that he was concerned about the vaccine.
"Today (yesterday) we expect 50,000 people to be vaccinated; there are queues everywhere", said the Serbian president.
"I read a long time ago that the Chinese vaccine is the best and I tried to get it. I was outraged, I was so angry when I saw the suppliers' requests. Some western countries have ordered more vaccines than the number of their citizens", Vučić said, explaining the vaccination process, adding that Serbia has not yet received vaccines from the Covax program.
The President noted that without the Covax program, 1,150,000 vaccines have been provided.
"We did not get much from the Russians. The Russian vaccine is great, we will try to build a factory so we can make this vaccine here. We are also talking to Astra Zeneca. We will look for and find a way", Vučić said, adding that all those who received the vaccine would also receive a repeat dose.
"We can not give the Chinese vaccine anywhere, because the Chinese friends do not allow it. We will be ahead of all European Union countries in terms of vaccination, which is an incredible fact", Vučić said.
He went on to say that the state has introduced Chinese vaccines without intermediaries, but that information on the price should not be made public. Vučić also pointed out that Serbia paid much less for the Chinese vaccine than its full price.
"In October, I wrote to Xi Jinping, pleaded to him and the price dropped dramatically. We expected 250,000 doses of Russian vaccine, but they lost many vaccines due to the reactor. We are first on their list of priorities and the Hungarians are second", Vučić said.
The Serbian President also announced a new aid package over the next ten days to strengthen vulnerable groups.
Asked when he will be vaccinated, Aleksandar Vučić noted that although he meets the conditions to be vaccinated, he has not yet decided, noting that what prevents him from being vaccinated is that there are those who are most at risk.
Regarding the presidential election and whether he will run in the upcoming elections next year, the Serbian President noted that "it is not just a matter of a decision from me, but also a set of circumstances. At the moment I do not really know. I want the people of Serbia to have someone who can fight for them", the Serbian president replied. I am not interested in the elections at the moment, I will face them when the time comes. At the present, I'm interested in people's health and how to protect people from this vicious virus"./ibna