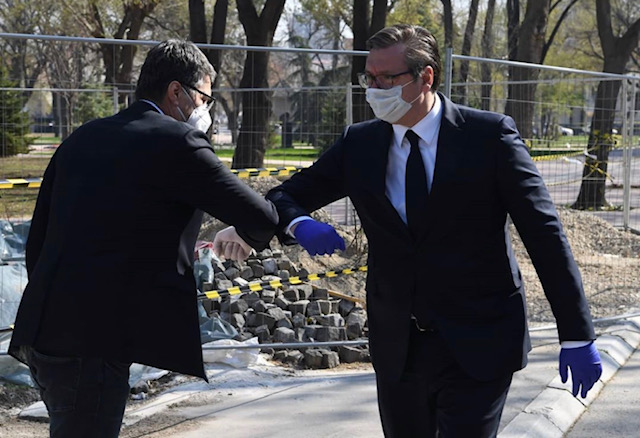 For the next 10 days, until April 20, it is crucial for us to face the fate of our relationship with coronavirus, said Serbian President Aleksandar Vucic from Nis, where he is on an official visit.
He said that the discipline of the citizens is now of the utmost importance and thanked the citizens of Nis for respecting the restrictive measures.
The Serbian President noted that Nis has been hit from the beginning but the citizens managed to discipline themselves and resist, despite the victims, while he referred to the efforts to increase the beds and the health benefits.
Continuing, Vucic noted that 5,000 packages of medicines from French Sanofi will arrive in the country as aid from France, expressing his gratitude to French President Emmanuel Macron.
Epidemiologist Branislav Tiodorovic said next week would be very difficult.
"Unfortunately, the number of patients, seriously ill and dying is expected to increase, but after the holidays, the prognosis is that the number will fall and that we will have a slight drop by the end of April", Tiodorovic said, adding that "following that we enter the month of May, sunny, beautiful, which will help us fight the virus".
"Iron discipline is needed at this point. What citizens can provide is to comply with all the measures. The only way to fight is to be disciplined for 14 days and realize that this is not a matter of democracy, but a matter of culture", Tiodorovic said, adding that "we have so far avoided an Italian scenario".
As he said, there are more than 120 people in respirators across Serbia who are struggling to survive.
"The ages from 30 to 40 make up one-third of the patients. At Nis today we have a three-year-old child who is ill and fortunately is in stable condition", Tiodorovic concluded./ibna