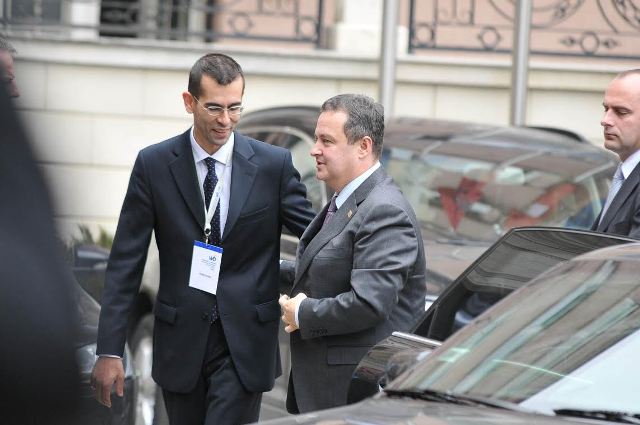 IBNA Special Report
Pristina, March 31, 2015/Independent Balkan News Agency
By Elton Tota
Serbia has announced neighboring relations with Kosovo. This fact has been "printed" on the document of ministers of Foreign Affairs and Transport of the countries of the region, issued after the "Western Balkan 6" ministerial, held last week in Pristina.
The six point preamble of the Joint Declaration that was approved by ministers of Kosovo, Serbia, Albania, FYROM, Montenegro and Bosnia and Herzegovina, confirms the commitment for "good neighboring relations, regional cooperation and European integration".
Prominent analyst, Nexhmedin Spahiu told IBNA that the recognition of Kosovo by Serbia as a neighboring country comes as a result of the fact that Belgrade has softened its tones and as a result of its orientation toward the West.
"The presence of the Serb ministers in the Balkan regional conference in Pristina shows a softening of tones by Belgrade toward Kosovo. It's also important to stress that recently, Serbia sees no other alternative besides integration in Euro Atlantic structures. Serbia wants to be part of the European Union projects that relate to the expansion of the EU toward Western Balkan", Spahiu says.
Political analyst, Fatos Rushiti told IBNA that the fact that Serbia is carefully following the Euro integrating processes, has made it relax its relations with Kosovo.
"In the Western Balkan 6 conference, Serbia used softer tones toward Kosovo. Serbia did this because the conference was shown in many regional and international media. Not only the EU, but USA too are yet to see the practical effects of its serious approach toward Kosovo. Although an agreement was signed a while ago between the two countries, the agreement remained on paper, because Serbia continues to operate in Kosovo with old mechanisms and without any creative approach", he says.
The EU is committed on working more in strengthening regional cooperation with all the countries of the Balkan. For this reason, it has allocated 1 billion Euros worth of investments for joint projects in infrastructure and transport.
The conference held in Pristina marked the first time that a Serb senior official participates in a summit held in Kosovo, since the end of the conflict in the country in 1999.
"We made a lot of progress as far as regional cooperation is concerned and I believe that we will be able to finalize the agreement on the Central Network that we discussed", said the EU Enlargement Commissioner, Johannes Hahn.
The Central Regional Network will link the capitals, the main economic centers and ports of Western Balkan.
In order for the network to be completed, the countries in question must deliver all investment projects and meet the technical standards until 2030.
The West Balkan 6 conference was held for the first time in Pristina.
Foreign ministers and Transport ministers  of Albania, Bosnia, Kosovo, Montenegro and Serbia participated in this conference.
These meetings followed the Berlin process, which was hosted by the German chancellor, Angela Merkel last August in Berlin.
The Berlin Process aims at coordinating the process of the expansion of the EU with the countries of West Balkan. /ibna/