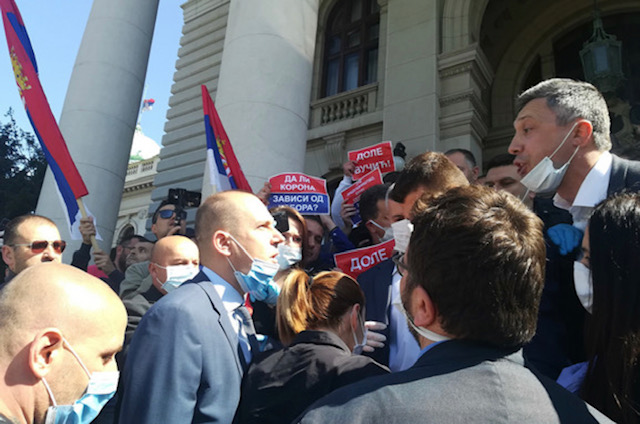 The head of the SNS parliamentary group, Aleksandar Martinovic, continues his hunger strike, despite a request from the President of Serbia and the SNS, Aleksandar Vučić, to end it.
This morning, Martinović told the Serbian News Agency Tanjug that he spent the night in front of the Serbian parliament with his colleagues.
He says he has not changed his mind about ending the hunger strike because he thinks we should wait for the Attorney General's response to Friday's incident in front of Parliament, when Dveri supporters and the leader of the movement Bosko Obradovic attacked MP Marian Risticevic.
He expressed hope that the Prosecutor's Office would react today and that it will not turn a blind eye, but that it will protect, in this case, MP Marian Risticevic, and in the future every citizen of Serbia.
He also said it was difficult for him to say whether the hunger strike was a form of pressure on the prosecutor's office or not, but added that lawmakers needed to find a way for the prosecutor's office to finally start doing the work set out in the Constitution and laws.
As he stressed, the essence of his strike is that all citizens in Serbia are equal, to show that Serbia is a state governed by the rule of law and that someone who thinks differently should not be defeated.
"No one in Serbia should be beaten and should not be a victim of political violence, simply because he is a politician who opposes Dragan Djilas and Bosko Obradovic", Martinovic said.
He added that the decision to go on hunger strike was not a simple one, but neither will be the decision to end it, should the prosecutor's office not react.
On Monday, President Vučić called on Martinović and MP Sandra Božić to end their hunger strike, among other things, because it represents a kind of pressure on the prosecutor's office. After that, Božić stopped the hunger strike.
Independent lawmaker Miladin Sevarlic has ended a hunger strike that began yesterday over the Kosovo issue, while Dveri leader Bosko Obradovic announced he continues his hunger strike.
Members of the Dveri movement staged a protest on Friday in front of the entrance to the Serbian National Assembly, attacking the ministers and members of the ruling majority when they entered the building. MP Marijan Risticevic, who was attacked, was beaten and his clothes were torn off. According to Risticevic, the assembly was attacked in order to cause unrest in the country and to present Serbia as a dictatorial country.
For its part, the Dveri movement posted on twitter a report on the arrest of members of its party.
The decision to hold the elections on June 21 has raised tensions in the Serbian political scene, with most parties aiming to increase their influence on voters./ibna