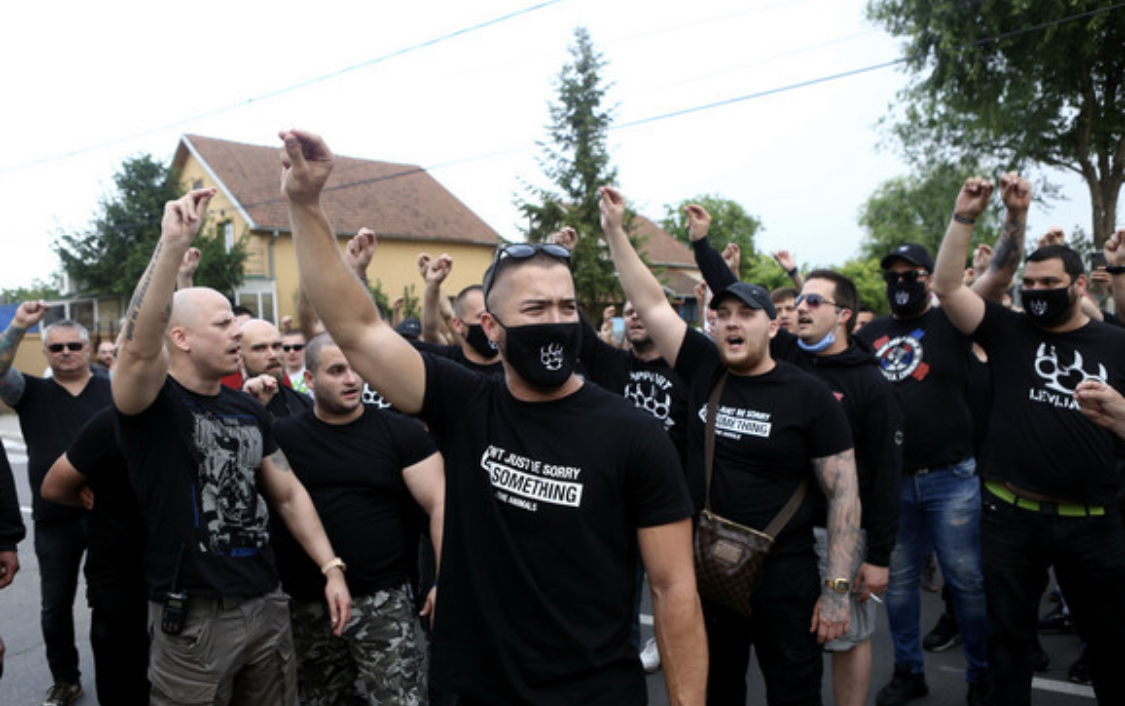 A protest rally with the slogan "Stop illegal immigrants" was organized by the far-right movement Levijatan, of which Filip Radovanovic, who was arrested last Wednesday when he stormed the Obrenovac Reception Center, is a member.
According to news reports from the scene, Pale Bihali, the leader of the far-right movement of Levijatan, as well as Jovana Stojkovic were also present and addressed the crowd.
The far-right protesters, mostly young people, blocked the streets in front of the reception center in an attempt to re-invade it, with Stojkovic and Bihali repeatedly shouting that Radovanovic had not committed any crime so far. In the end, the gathered group of extremists applauded and raised their hands extending three fingers, the sign of victory.
Filip Radovanović, a member of the Levijatan movement and of the Serbian national boxing team, was arrested a week ago, shortly after his violent invasion of the Obrenovac Immigrant Reception Center, and fortunately no one was injured in the process.
His whole act was broadcast live on social media. He drove through the woods around the center, tore down barbed wire and passed through Serbian Army security teams. During the live broadcast of his heinous act, far-right member Radovanovic stated that he did not want immigrants to attack his girlfriend, to live in Serbia, and to create a Muslim state. He expressed displeasure that "thousands of migrants live in Obrenovac" and "are being guarded by the Serbian army", adding that he expected "the punishment for this to be great". Soon his road trip came to an end by members of the Serbian Army who approached him and cut the broadcast of the invasion short. The Police was immediately informed about the invasion and with a prosecutor's order he was arrested on charges of violent behavior. /ibna