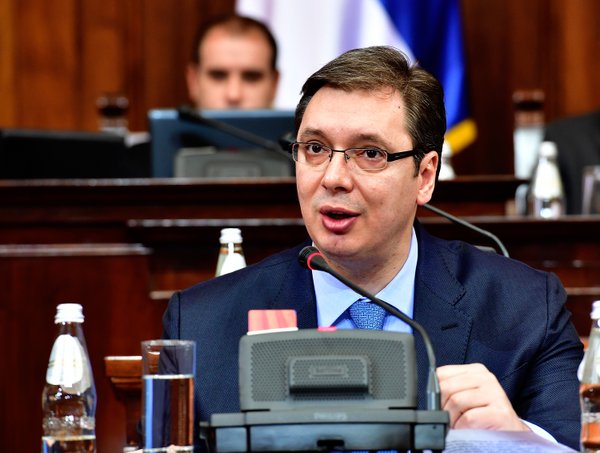 Belgrade, February 12, 2016/Independent Balkan News Agency
By Milos Mitrovic
The International Criminal Tribunal for the former Yugoslavia's request from Belgrade to extradite it three members of the far right Serbian Radical Party (SRS) due to their alleged influence on witnesses in the process against SRS leader Vojislav Seselj prompted harsh reaction from Serbia. Later today the government is going to deliver demarche to the Tribunal, Justice Minister Nikola Selakovic announced.
By taking this step. the government shows that Serbia fulfills its obligations but, on the other hand, "it don't allow anyone to wipe the floor with it", Selakovic said. "The essence of the whole situation is that The Hague Tribunal focuses on persecution of persons suspected for influencing witnesses at the moment when the tenth indicted person has died", Selakovic said alluding to former Bosnian Serbs general Zdravko Tolimir, who died in The Hague Tribunal detention center earlier this week.
Tolimir was the tenth Serb who died in The Hague court since 1990s.
"The life of Mr Zdravko Tolimir is far more important than all the requests of The Hague Tribunal", Prime Minister Aleksandar Vucic said on Thursday, adding that "this is key question rather than whether someone has influenced witnesses".
Vucic also criticized the UN founded court for its treatment of the legal representative of Serbia. "Gentlemen, Mr Orie and all in The Hague Tribunal, you should learn to respect the Republic Serbia and after that we will continue discussion in accordance with the laws of Serbia", Vucic concluded.
Alphonse Orie is the judge in the case against Seselj.
The head of the National council for the cooperation with The Hague Tribunal Rasim Ljajic said that Serbia was committed to fulfilling its obligations to the court but, at the same time, it "expects minimum respect". Labor Minister Aleksandar Vulin reacted by saying that The Hague treats Serbia as it was colony or protectorate.
The process against Vojislav Seselj for the war crimes in 1990s started in 2003 when he voluntarily surrendered to the court. However, there was little progress in his case and in 2014 he was transferred to Serbia due to poor health.
Seselj and Vucic were close associates until the 2007 split in SRS and creating pro-European Serbian Progressive Party (SNS) currently led by Vucic. After he came back from The Hague, Seselj immediately started to criticize and insult his former party companions, especially Serbian President Tomislav Nikolic.
However, Seselj never criticizes Vucic. The sentence against Seselj is to be delivered by the end of March, Ljajic said earlier. This coincides with general elections campaign in Serbia. According to polls, SRS would likely pass the threshold to gain representation in Parliament if Seselj stays in Serbia. SRS, which was among the major parties for more than 15 years, has become non-parliamentary group after 2007 split.