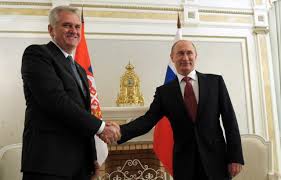 By Milos Mitrovic – Belgrade
Presidents of Russia and Serbia Vladimir Putin and Tomislav Nikolic signed the Declaration on strategic partnership between the two countries on Friday. The declaration encompasses the key principles about further cooperation between Serbia and Russia.
"The Declaration on strategic partnership will give strong impulse to the development of the relations between Serbia and Russia", Vladimir Putin said after he met Nikolic in Sochi.
"This is a great day for Serbia", Tomislav Nikolic said. He added that the "centuries-long brotherhood" became formalized by signing the Declaration. "The Declaration will benefit the remarkable capabilities of the both countries", the Serbian President said.
Putin and Nikolic announced that the numerous mutual projects of Russia and Serbia would be completed. Putin promised that Russia would enhance its investments in Serbia, particularly in the energy sector. The construction of the Serbian section of the Southstream pipeline would start until the end of the year, Russian President added. Putin reiterated that Russia would invest USD 1.7 billion in this project in Serbia.
In 2008 Russian company Gazprom bought a 51 percent stake in NIS, the Serbian state-owned oil company. Since then, Gazprom had invested total of EUR 1.5 billion in the company.
Russia had approved USD 1.3 billion loans to Serbia, and supported the restoration of the Serbian monasteries in Kosovo, Putin recalled.
Tomislav Nikolic thanked Putin for Russian diplomatic support to Serbia regarding the Kosovo issue. He said that Belgrade had decided to award Putin with Serbia's highest ranked medal. "I will be happy to bestow this decoration to you in Belgrade," Nikolic stated.
Stressing the importance of the relations between Russia and Serbia, Serbian national television (RTS) reported that Putin spent more time for meeting with Nikolic than it had been planned. On the other hand, Serbian liberal "Danas" daily gave an accent to the fact that Serbia became "one among the 40 Russian strategic partners" by signing the Declaration in Sochi.
Nikolic headed Serbian delegation in visit to Russia.  The Foreign Minister Ivan Mrkic, The Deputy Prime Minister Aleksandar Vucic and The Minister for national resources Milan Bacevic were in the delegation.
Commenting the flurry of his diplomatic activities this week, Aleksandar Vucic stressed that "Serbia is small country which has to prevent its territory and try to maintain good relations with everybody". Earlier this week Vucic met German Foreign Minister Guido Westerwelle in Belgrade. On Saturday he will meet Putin and Russian defence minister Sergei Shoygu.