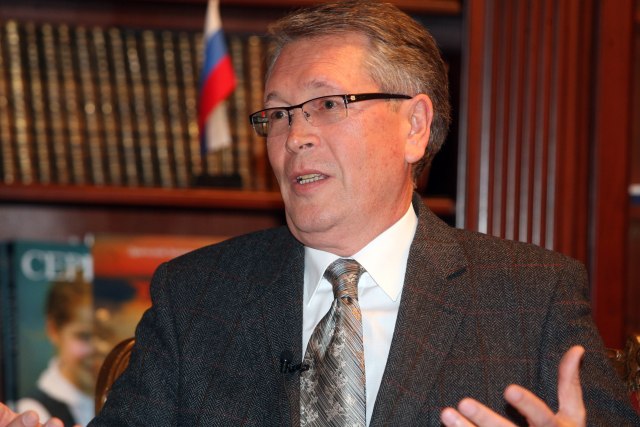 By Milos Mitrovic – Belgrade
Russia and Serbia share a great and tragic political and military history and in hard times they have always been standing on the side of truth an justice, the Russian ambassador to Serbia, Alexander Chepurin, said on the occasion of "Defender of the Fatherland Day". On Thursday, Chepurin made a reception marking Russia's national holiday and the "successful"organization of Winter Olympics in Sochi.
Chepurin pleaded Serbia and Russia to mark together "in dignity" both the Great War 100 years anniversary and seventieth anniversary of Belgrade liberation by the Red Army. Russian ambassador thanked Serbian President Tomislav Nikolic, who attended the reception, for coming to the Winter Olympics opening ceremony despite the "anti-Russian" hysteria in Western countries in regard to the games. Chepurin also thanked Prime Minister Ivica Dacic for attending the closing ceremony in Sochi.
The ambassador said he was concerned over the current developments in Ukraine. "Ukraine is part of the European family and it should not be permanently provoked  regarding its relations with Russia or Western Europe. This resembles the Siam twins separating. We should make the efforts to build our common future in Europe from Lisbon to Vladivostok", Alexander Chepurin said. He emphasized "many tragedies in 21 century – Yugoslavia, Iraq, Libya, Egypt, Syria".
The reception in the Russian embassy was attended by Serbian Orthodox Church dignitaries as well as prince Aleksandar Karadjordjevic and princess Katarina,  government officials and the representatives of political parties, diplomatic corps, Serbian Olympic Committee and Serbian army.