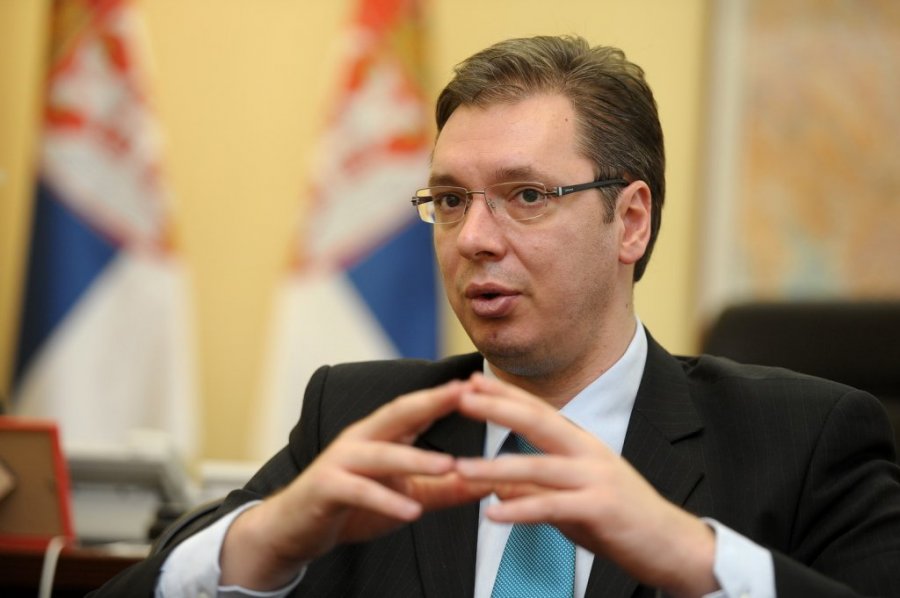 By Milos Mitrovic – Belgrade
Pushing hard against the grey economy, firings in public administration, reducing the subventions for certain public enterprises and strengthening the private sector are the measures objected to heal Serbian economy presented by prime minister Aleksandar Vucic. The growth of the economy can be expected in 2015 and overcoming the crisis in 2016, Vucic promised.
The wages and pensions up to 25,000 dinars (210 euros) would not be reduced, PM said in the interview for the national television (RTS). "This means that most of the retirees – 60,2 percent – will not be affected", Vucic specified; pensions higher than 25,000 dinars would be reduced linearly, he added.
According to Vucic, 31,000 Serbian pensioners with payments higher than 60,000 dinars (505 euros) would be the most affected. Vucic underlined that his mother and father are among them, explaining that he goes against his own family. The pensions above 100,000  dinars (845 euros) would be reduced for 15 or 16 percents.
Similarly, the wages in public sector up to 25,000 dinars will not be affected by the government's measures; the wages which exceed this will be reduced linearly up to 10,5 percents. The total savings via austerity measures would reach approximately 700 million euros, prime minister said. He also announced that the "solidarity tax" – which was introduced in January – would be abolished.
"Solidarity tax" was presented as one of the key austerity measures and applied on public sector wages; the payments above 60,000 dinars have been taxed at a 20 percent rate and those that exceed 100,000 dinars at a 25 percents. The measure has caused dissatisfaction and critics among civil servants.
"Serbia is thousands of miles faway from bankruptcy", Vucic said adding that people should not be worried. "Serbia is solvent and we have enough money up to April next year without using loans".
He said that Serbian agriculture has been "destroyed" in recent years and reduced to the 1910 level promising, however, that the growth would be reached as early as next year. PM added that the loans would be provided to small enterprises, rather than "agricultural tycoons".
Vucic reiterated his claims that the Democratic Party led government has caused "enormous indebtedness" of some 17,67 billion euros from 2008 to 2012; the private sector was "destroyed" and public enterprises "systematically devastated".
European Union representative in Belgrade Frejk Janmat said that Brussels supports the measures announced by Vucic. "We consider this to be a part of structural measures agenda that should be implemented alongside with economic measures in order to increase the competitiveness and growth", Janmat was quoted as saying by Tanjug.