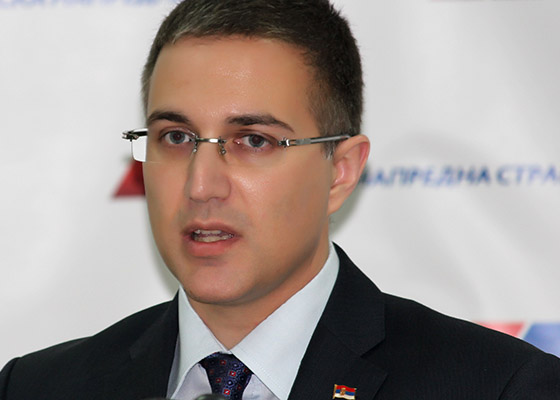 Serbia, November 17, 2015/Independent Balkan News Agency
By Milos Mitrovic
Slovenia and Austria are erecting wire fences on their borders, and Serbia is ready for every possible scenario considering the refugees crisis and situation following the terror attacks in Paris, Interior Minister Nebojsa Stefanovic (photo) told Radio-Television of Serbia today. He added that the level of security in the country has been raised.
"Slovenia and Austria have threatened that they would close the borders, therefore the movement of migrants is gradually slowing down. It was planned that about 2,000 migrants a day may enter into these countries, but Serbia cannot accept this. What can we do if 8,000 people enter Serbia, and only 2,000 are allowed to continue their route", Stefanovic said.
Later today the situation will be discussed at the meeting of the Bureau for Coordination of Security services presided by Prime Minister Aleksandar Vucic. "Of course, the Prime Minister has to decide about it. We are determined and responsible to the citizens of Serbia, but also to migrants who pass through Serbia", the minister said.
Serbia is trying to be a fair partner with all countries in the region, Stefanovic added. "However, our neighbors are aware that we can slightly slow down the movement of migrants, but we cannot leave them here. They neither want to, nor can we accept them", Stefanovic concluded.