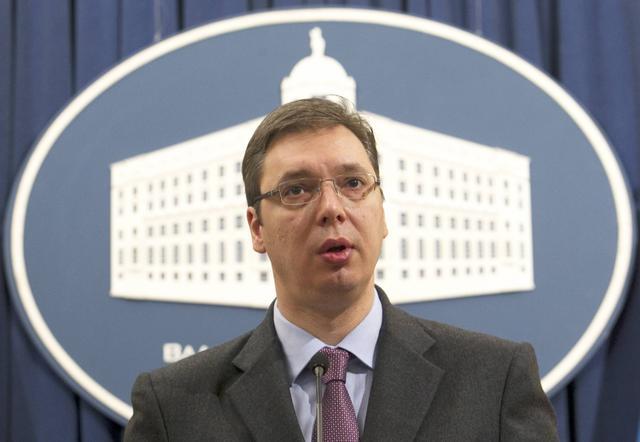 By Milos Mitrovic- Belgrade
After the agreement about normalization of relations between Kosovo and Serbia had been reached in Brussels on Friday evening, Serbian Prime Minister Ivica Dacic said that "the best possible solution at this moment" had been offered to Serbia. Dacic suggested that the police in the North of Kosovo, according to agreement, would consist of Serbs and that Serbian municipalities in this region would have jurisdiction to elect its police commander.
He said that according to the article 14 of the agreement Serbia cannot block Kosovo's integration to the European Union. However, the article 14 had been amended in order to remove the statement that "Serbia must not block Kosovo in international organizations", Dacic stressed.
He explained that he did not sign the document, but only certified it. The document had been only "a draft that should be accepted or refused by both sides in days to come". Dacic said that Kosovo Prime Minister Hashim Tachi had misinterpreted the deal by saying that Serbia had recognized Kosovo's independence. "Albanians from Kosovo had been using lies to demonstrate to their public that they won something in negotiations", Dacic said.
"At this moment this (deal) had been the maximum we could gain for our people in Kosovo and Metohija", Deputy PM Aleksandar Vucic, who also took part in the negotiations, said in Brussels. "We have not, and will not recognize Kosovo", Vucic commented the statement made earlier by Hashim Taci. He also stressed that the decision concerning the acceptance of the deal would be made in the next couple of days.
"We will not be deceived by fabrications made by Hashim Thaci. We are aware of the complexity of the situation and of the responsibility we  took for the future of Serbia and for our people", Vucic said.
NATO had guaranteed to Serbian negotiators that Kosovo security forces would not be deployed in the North of Kosovo, Serbian Broadcasting Corporation (RTS) reported.
Goran Bogdanovic, Serbian ex minister for Kosovo and Metohia, who is high official of opposition Democratic Party (DS), commented that proposal from Brussels, "according to media reports had been based on Marty Ahtisaari plan that Serbia earlier refused".
Vojislav Kostunica, former Serbian Prime Minister who is the leader of  Democratic Party of Serbia, said that the representatives of Serbian government in Brussels "had accepted to annul Serbian statehood in the Autonomous province of Kosovo and Metohija, to hand over Serbian people to the Albanian separatists and to sell territory of Kosovo only to get the false date for starting the negotiations on accession to EU".