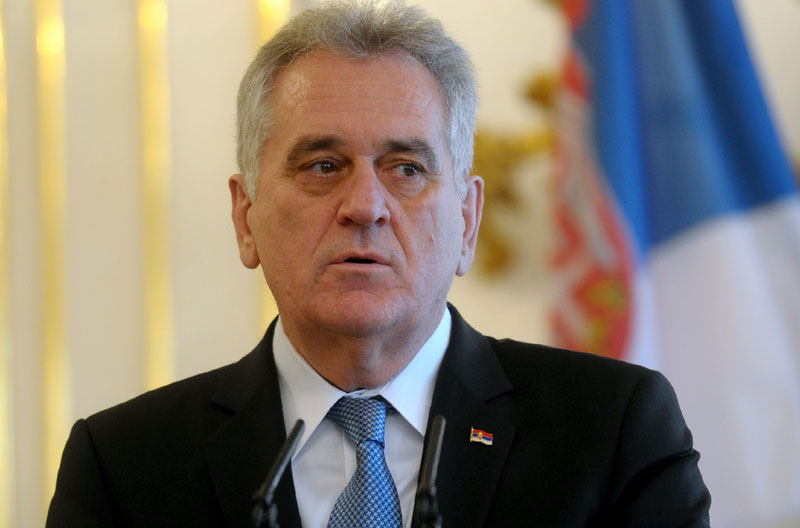 By Milos Mitrovic – Belgrade
Serbian president Tomislav Nikolic said that he "wishes" ceasefire in Ukraine as soon as possible not only due to Serbian specific position over the conflict, but also because of the interest of the people in the area affected with the crisis.
"If they reach the deal (Ukraine and rebels) it would be beneficial for the people. Otherwise, people in eastern Ukraine would suffer and this is out of doubt", Nikolic said in the interview for Tanjug news agency. Commenting Ukraine crisis, Nikolic recalled the collapse of the former Yugoslavia and "how it looks when the big ones (major states) get involved and start to decide on someones destiny".
Considering Serbia's position over Ukraine, Nikolic said he was convinced that "we have to remain on the position of insisting on international law and justice which very clearly means that Serbia recognizes Ukraine in its frontiers recognized by the United Nations". He added that Serbia demands the same international recognition for itself, alluding to Serbian territory together with Kosovo.
"Serbia has to make its (foreign policy) decisions following the international law and its own interests, and our interest is both not to lose Russia as our protector in UN Security Council and not to be at odds with the EU", Nikolic underlined.
When asked about the international pressure on Serbia regarding its stance on Ukraine crisis, president said that pressures "probably exist". He added, however, that "nobody told him a word" and that he was not aware if somebody else is being pressured. If pressure exists, everybody should keep in mind "destiny" of Serbia, country's Constitution as well as promises directed to public and "Serbian citizens wishes".
And citizens wishes are – according to Nikolic – that Serbia must not recognize both independence of Kosovo and Metohija and independence of Crimea or it's annexation to Russian Federation. President reiterated that Russian president Vladimir Putin would visit Serbia in October.