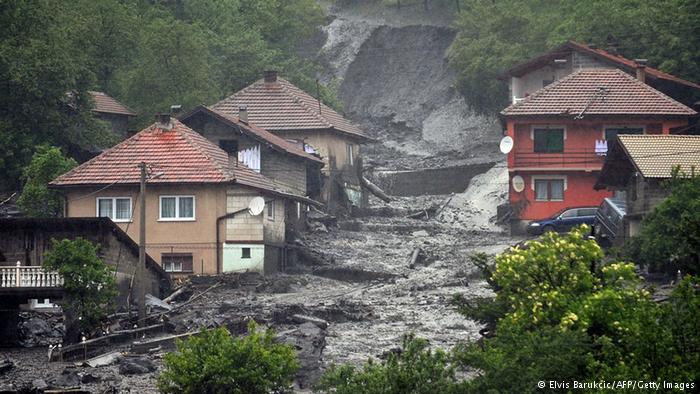 By Milos Mitrovic – Belgrade
Serbia will receive international donations of around 995 million Euros in order to overcome the damage caused by disastrous floods in May. The handouts have been collected by 23 international organizations and 60 countries which have take part at the donor conference in Brussels on Wednesday evening.
Bosnia-Herzegovina, which was also hit with floods, will get 809 million Euros. In total, Serbia needs 830 million Euros for the reconstruction of devastated areas and Bosnia 650 million Euros, the Brussels conference participants have declared. Some 42 million Euros have been collected for cross-border projects, mainly for constructing systems for the prevention of floods and natural disasters, Beta news agency reported from Brussels.
The bulk of the donations will be used for the reconstruction of infrastructure, energy supply systems as well as roads, houses, agriculture and small enterprises, it has been stated in the conclusions of the donor conference held under the slogan "Reconstruct together".
"You are not alone", European Union Commissioner for the International Cooperation, Humanitarian Aid and Crisis Response Kristalina Georgieva in Serbian told the officials of Serbia and Bosnia-Herzegovina in Brussels.
Gerogieva warned that new disasters may arise due to the global warming; therefore adequate preparations need to be carried out, Tanjug news agency reported. "In the past 13 years, the number of floods in Europe reached the figure recorded over the previous 200 years", she said.
The sum collected for the reconstruction consists of donations, favorable loans and the part would be provided from different funds, Serbian President Tomislav Nikolic specified in the interview for B92 television. Nikolic, who took part at the Brussels conference, promised that Serbia would "erect the monument" to international donors.
"I'm really proud for what happened today in Brussels because it turned out that the countries which allegedly do not cooperate between themselves have actually showed good level of cooperation", Nikolic said adding that the representatives of the donor countries, as well as banks and other institutions have been properly informed on scale of the damage and have determined that states (Serbia and Bosnia) "did not cheat".
"The most important was that donors wanted to hear how these donations will be spent and in six months another conference will be organized to check the way money that we urgently needed has been spent", Nikolic underlined.
European Bank for Reconstruction and Development (EBRD) stated it can provide 300 million Euros for Serbian public sector to cope the consequences of the May floods. This sum includes 100 million Euros for the medium and small enterprises in affected areas.
"The natural disaster that had hit us did not recognize the borders alike the governments which have reacted. The cooperation and solidarity were shown during the floods and after the water has withdrawn", head of Bosnia-Herzegovina Presidency Bakir Izetbegovic said.