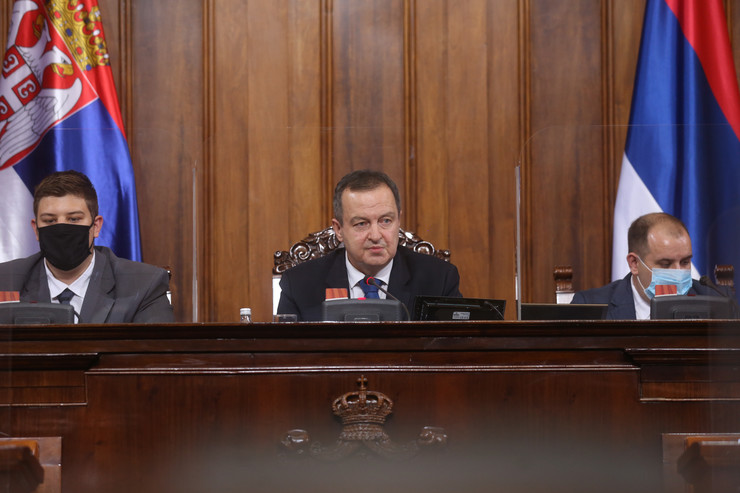 Ivica Dačić, Speaker of the Serbian National Assembly, convened the first extraordinary session of the Parliament today, with one issue monopolizing the agenda – the election of the government and the swearing in of the Prime Minister and members of the Serbian government.
The session is scheduled to start at 10:00 am (local time), as announced by the National Assembly of Serbia.
During the session, Prime Minister-designate for the composition of the new government Ana Brnabić will present her program statements and the members of the cabinet.
The swearing in of the President and members of the Government is also on the agenda of the Extraordinary Session of Parliament, which formally marks the beginning of their term.
Following the debate in parliament, a vote and an oath are expected, which is as follows:
"I swear allegiance to the Republic of Serbia and in my honor I pledge to abide by the Constitution and the law, that I will fulfill the duty of a member of the government conscientiously, responsibly and devotedly and I will commit myself to the preservation of Kosovo and the Republic of Of Serbia".
The Serbian government comprises 21 Ministries, including the three newly-established ones concerned with village care, family and demographics, as well as human and minority rights and social dialogue, alongside two ministers without portfolios.
Yesterday, the Serbian Parliament approved the Law on Ministries, which constitutes a precondition for the formation of the new Serbian government. According to this act, the new government will have 21 ministries and almost half of the ministers will be women.
At the suggestion of Prime Minister-designate Ana Brnabić, the new government will also include their former partner Ivica Dačić's Socialist Party of Serbia, as well as Aleksandar Šapić's Serbian Patriotic Alliance – SPAS.
Nine ministers remain from the previous cabinet with Brnabić as prime minister, with some of them simply moving to different Ministries.
The new government will have a limited duration as early parliamentary elections are scheduled to be held no later than April 3, 2022, along with the regular presidential elections. /ibna