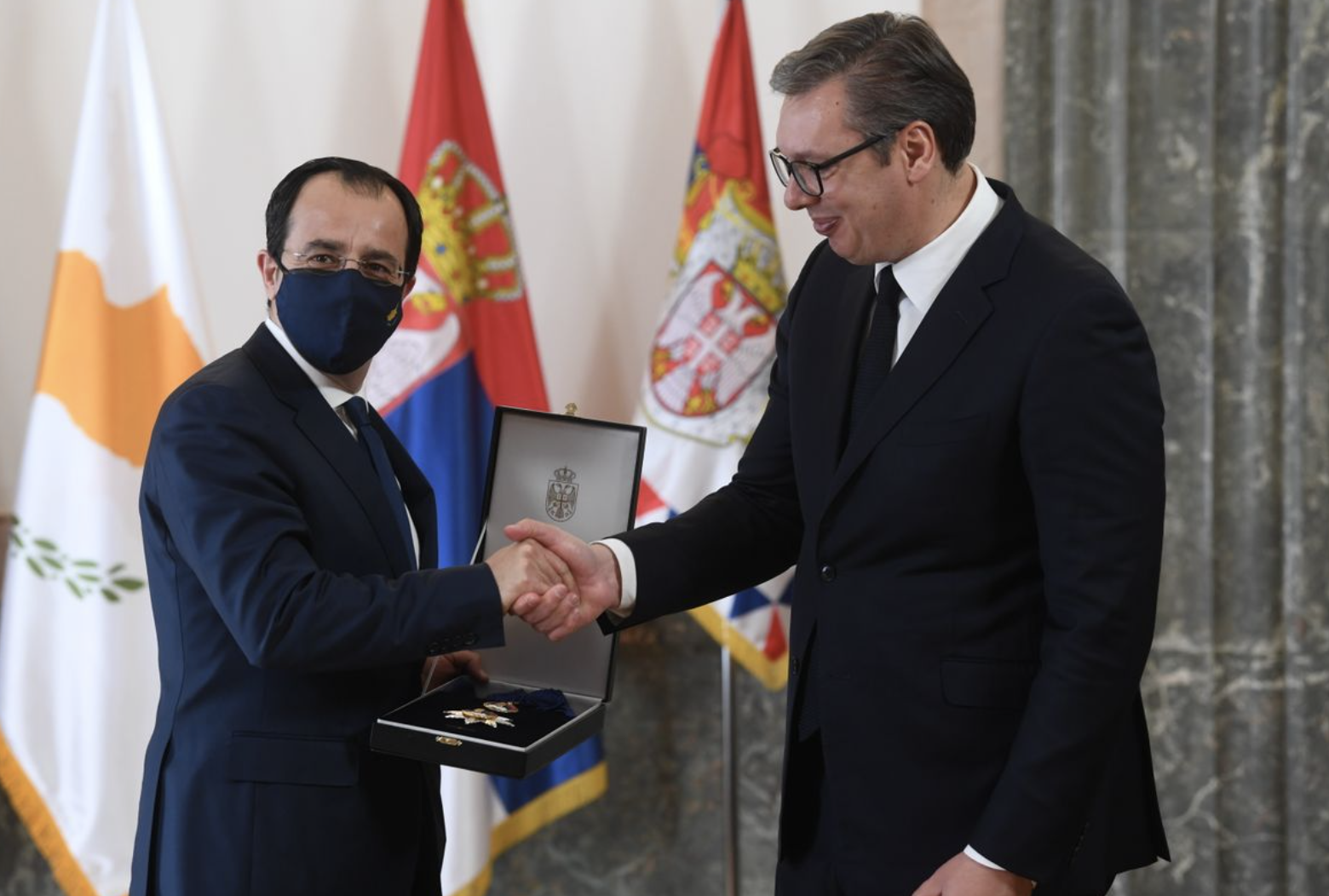 Serbian President Aleksandar Vučič awarded the Minister of Foreign Affairs of Cyprus, Nikos Christodoulides, with the Order of the Serbian Flag of the first degree for his special services in developing and strengthening cooperation and friendly relations between Serbia and Cyprus.
"Dear friend, I am honored to be able to personally award you this order. It was awarded on the occasion of the State of Serbia Day and I want to say to all the Serbian people that the holder of this medal is a dear friend, a Minister of Cyprus, a state that has always stood by our country and our people, a country that defended international law and justice, always supporting the preservation of Serbia's territorial integrity and sovereignty and standing its ground despite pressure," said President Vučić.
He stressed that Serbia, thanks to Minister Christodoulides, has always considered Cyprus the closest friend not only within the EU, but also among all other countries, adding that Serbia is always able to appreciate the strong support of Cyprus.
President Vučić expressed confidence that Serbo-Cypriot co-operation in all areas of socio-economic life would become richer and stronger, expressing his hope to host the Cypriot President in Belgrade soon at the Summit of the Supreme Co-operation Council between Serbia and Cyprus.
"Thank you for always showing trust and love for the Serbian people, as we show seriousness, responsibility and trust in our relations with Cyprus. Thank you for everything, and we will try to give it back to you and your people," said President Vucic.
The Minister of Foreign Affairs of the Republic of Cyprus said he was honored to receive a valuable recognition and accepted it with great gratitude, saying it was an expression of the historical ties, common cultural values, religious tradition and long-term friendship uniting the two countries.
"Throughout history, we have faced many challenges that threatened the existence of our peoples, but with great determination -which has become the hallmark of our peoples- with solidarity and support, we have been able to meet the challenges and gain the right to look to the future with optimism, in cooperation with neighbors for the development of peace, security and prosperity", said the Cypriot Minister. /ibna