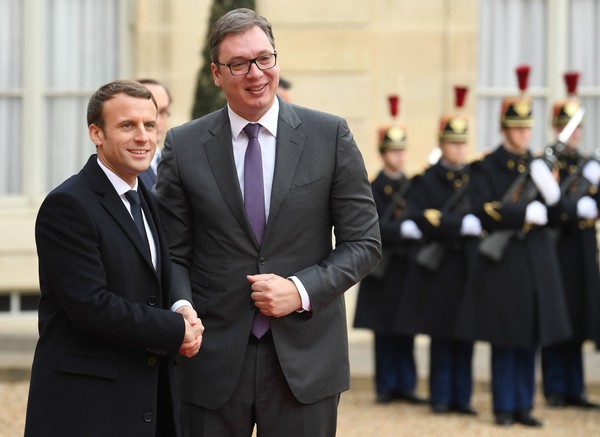 Emmanuel Macron will be the first president of France to visit Serbia in 17 years. Serbian president Aleksandar Vucic said today that the visit, which is planned to occur in December, will represent a major progress in relations between the two countries.
During the visit, "many important agreements" will be signed, Vucic said at the meeting with French ambassador Frederic Mondoloni. These agreements will be in the domains of economy, investments, defense, culture and sports, according to Serbian president's public relations office. Serbia wants closer relations with France, Vucic said.
Vucic and Mondoloni have also discussed the ongoing crisis between Belgrade and Pristina. The president stressed that the moves made by Pristina "risk escalation of conflicts and endanger peace and stability in the region"; "they are unacceptable as such", he added. The French ambassador has, according to press release, "complimented the peaceful approach of the Serbian side".
Last week, Pristina imposed 100 percent additional tariffs as an obvious reaction of Kosovo's failure to become a member of Interpol. Pristina has accused Belgrade of conducting a "savage campaign" against its Interpol bid.
The European Union has urged Pristina to recall the measure. American secretary of state Mike Pompeo did the same at the meeting with Kosovo's president Hasim Taci in Washington earlier this week.
Serbia would be ready to continue the dialogue with Kosovo after Pristina withdraws the "non-civilized and illegal taxes",  Vucic told Mondoloni. He stressed that the measure was unilateral and that "the other side should be respected in any kind of dialogue".
"Serbia did not breach any agreement or treaty, unlike Pristina which did not fulfill any of its duties in accordance with the Brussels agreement", Vucic underlined.
Frederic Mondoloni said that France would continue to support the dialogue, in order for the dispute between Serbia and Kosovo to be resolved./IBNA