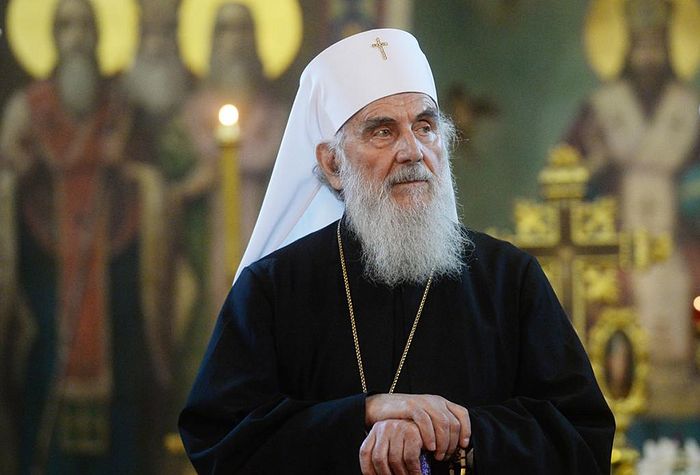 The Serbian Orthodox Church (SOC) announced today that the overall condition of Serbian Patriarch Irinej had worsened this morning, as a result of a coronavirus infection.
According to the statement, after examining laboratory tests conducted in the morning, the medical council concluded that the deterioration was a consequence of a COVID-19 infection, and the health of the head of the Serbian Orthodox Church was "complicated but stable".
It is also reported that Patriarch Irinej remains under the constant supervision of the medical council, in the presence of doctors from the Russian Federation.
Meanwhile, some media outlets inaccurately reported today that Patriarch Irinej had passed, forcing the Serbian Orthodox Church to issue a statement denying the rumor.
"As for the fake news regarding the alleged rest of Saint Patriarch Irinej of Serbia, we inform the public that, according to the official report of the council of doctors who take care of the health of our Church Leader, his condition remains unchanged from the report which we published this morning".
It is also reported that the Serbian Orthodox Church described as extremely irresponsible and immoral "such false reports and deliberate deception and harassment of the whole public, even by certain ecclesiastical figures, as well as by some media that could be trusted so far".
"We call on everyone to pray for the health of our Patriarch and to be informed about his state of health by the official announcements of the Medical Council and the official website of the Serbian Orthodox Church Intelligence Service", the statement notes.
As Bishop Stefan Šarić, the patriarch's chief bishop and elder of the Church of St. Sava, said earlier today, the condition of the Serbian patriarch deteriorated last night.
"We are worried, we expected things to turn in a different direction", Bishop Šarić told Blic.
Patriarch Irinej has been receiving treatment at the Military Medical Center in Karaburma since November 5, and one day earlier it was announced that he had tested positive for COVID-19.
The Serbian patriarch attended the funeral of Metropolitan Amfilohije of Montenegro and the Littoral in Podgorica on November 1st, who also died of coronavirus complications. Only three days later, the head of the Serbian Orthodox Church was also diagnosed with the virus. /ibna