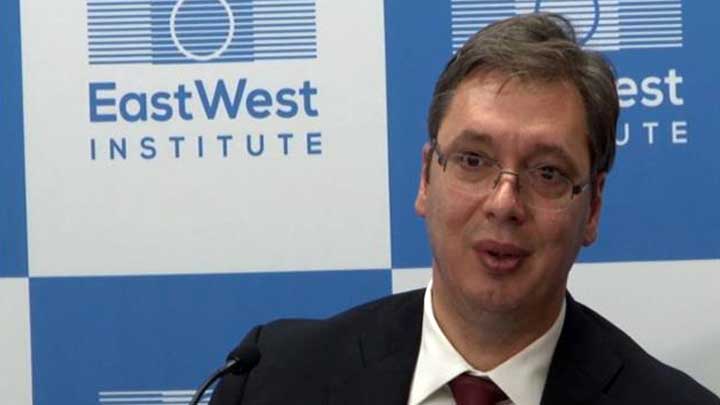 Belgrade, September 22, 2016/Independent Balkan News Agency
By Milos Mitrovic
The migrant crisis has not even started and the European Union can hardly find a solution for it, Serbian prime minister Aleksandar Vucic said today at the EastWest Institute in New York. The debate was opened by Cameron Munter, former American ambassador to Serbia. Vucic is in several days long visit to U. S.
"From the very beginning of the crisis we are faced with the greatest problems because we have in Serbia some 7,000 people who can't leave the country, they don't know where to go… We also don't know what to do with them, because they don't want to stay in our country", Vucic said.
As premier said, 83 percents of migrants in Serbia come from Afghanistan, and "99 percent" of them are male, without families, spouses, children or parents.
In Vucic's words, Serbia will not install any kind of walls "because this will not protect us". "This will not protect our borders, nor our country, but we cannot become a parking lot for Afghans", he underlined.
Serbia treats migrants "very good", Vucic said adding that the country "shows its solidarity and humane face". He reiterated that Serbia has accepted EU's quota system for the migrants although it is not a member state.
"But the problem is that those people don't want to stay (in Serbia) as well as the fact that nobody within the EU has accepted the quotas system", the PM went on.
Vucic announced that officials of the countries from the so called Balkans refugees route would attend the meeting on refugees crisis in Vienna on Saturday. He stressed that German chancellor Angela Merkel and European Commission head Jean-Claude Juncker would be present. "I'm not optimistic at all, because I have attended a number of meetings in Brussels", he added.
"We have wasted time and remain without conclusions and clear solution. There are big differences between the Visegrad group, Bulgaria and Austria from one side, and Germany and Benelux countries from the other side. Their approaches are completely different", Vucic concluded.