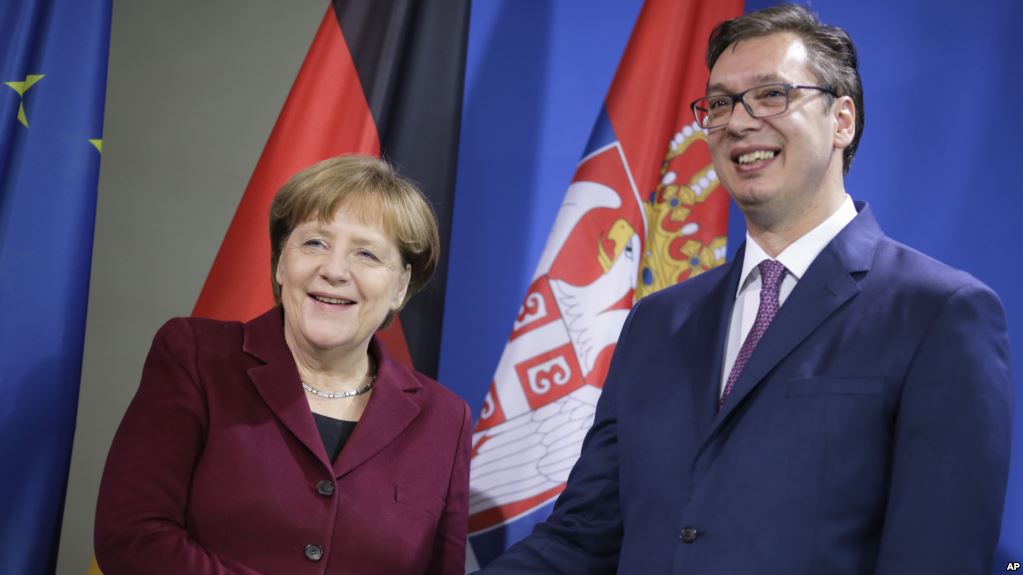 The reforms show that Serbia is on a good path, German chancellor Angela Merkel said after meeting with Serbian prime minister Aleksandar Vucic in Berlin on Tuesday. However, the media freedom in Serbia is also important, as she stressed. "It's not just something that European Union imposes; it's in the interest of Serbia. Merkel praised Serbian contribution to EU's efforts in coping with migration.
"We want to show our humane and solidary face", Vucic added at the joint press conference.
Merkel emphasized German support to Serbia's efforts in accession process with the EU. "Serbia fulfills the standards, and newly opened chapters (in accession process) prove that", she said.
"I want to encourage Vucic to continue with the efforts…  in the rule of law domain because it is at the focus of the negotiations. He should do that alongside with civil society which is very active in Serbia… In that context the freedom of media and opinion is important", German chancellor said.
"Serbian 1,16 economic growth shows that reforms are going well", Merkel stressed.
She praised Vucic for his standing for the "peaceful and reasonable" development in the Western Balkans. "When it comes to Kosovo, this is an important issue and we have witnessed improvements regardless of the problems", Merkel stated adding her expectation that the tensions in the region will be overcome.
Merkel recalled that new EU conference on the Balkans, within the so-called Berlin process, would be organized in Trieste later this year. All Western Balkan countries have European perspective, she added.
Vucic thanked Merkel for her "tremendous role in calming down the tensions in the Western Balkans".
"Serbia is the confident partner of Germany and the EU and was never deceiving others. I think we deserve respect in that regard", Vucic said./IBNA