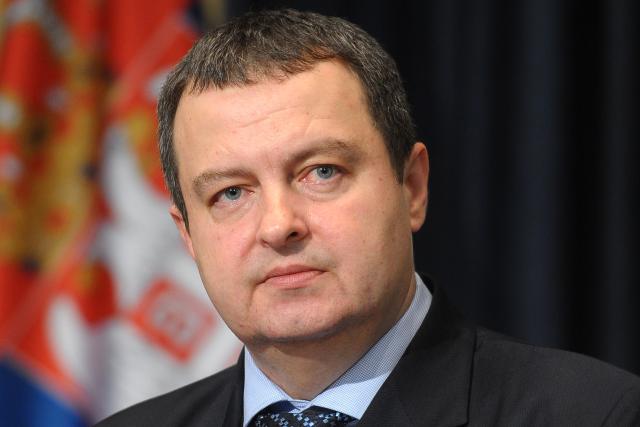 Belgrade, April 4, 2016/Independent Balkan News Agency
By Milos Mitrovic
Croatia is using the bilateral relations with Serbia for its internal political struggle, Foreign Minister Ivica Dacic (photo) said today commenting the announcement by his Croatian counterpart Miro Kovac that Zagreb would block Serbia's accession negotiations with the European Union.
On Sunday Kovac said that Croatia would insist that Serbia should change its law on war crimes processes and improve the status of Croat minority.
"Several years ago Croatia itself wanted to express its position and it did so. It is the document of the parliament (of Croatia) which stated that bilateral relations and bilateral issues would not affect its relations with Serbs nor it would slow Serbia's European integrations. However, the relations with Serbia are obviously being used… as an easy mechanism for internal political struggle and such messages from Croatia certainly do not contribute to the improvement of the relations with our neighbors", Ivica Dacic told Radio Belgrade.
"We are ready to resolve the problems through dialogue, but we are not ready for any blackmails from Croatia especially taking into account that Croatia is far from being in position to teach Serbia on minority rights… In general, Croatia's threats are senseless and I am certain it would not gain the support of any EU member state", Dacic claimed.
When asked about the open issue on part of the border with Croatia, the FM recalled that Croatia has similar problems with Slovenia and Bosnia and Herzegovina. "First, they should resolve their problems with Slovenia and Bosnia and Herzegovina".
"If compromise means that everything should be done as they want, then it is certain that such compromise would never be reached. My well-meaning advice for Croatia is that it should not regard itself as a kind of world power because it is not. It is far from it", Dacic said predicting that EU would side with Serbia. He suggested that some in Croatia think that "the meaning of life is in fighting against Serbia".