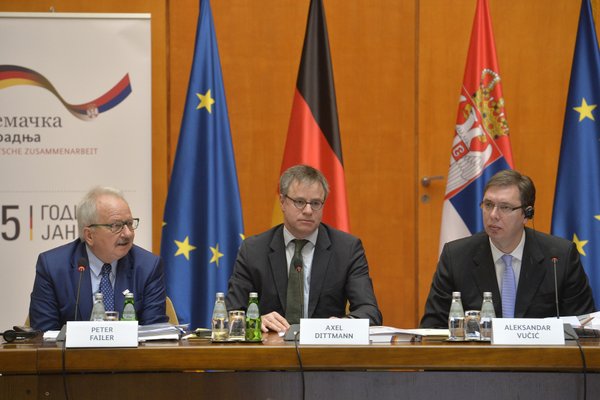 Belgrade, February 3, 2016/Independent Balkan News Agency
By Milos Mitrovic
Serbia would not become "a parking space for the refugees" and cannot accommodate "hundreds of thousands of those people", Prime Minister Aleksandar Vucic said in Belgrade today. At the same time, Serbia would be ready to accept European Union's quota system for the refugees' distribution, although it's not a member of the block, Vucic added.
At the session of the German-Serbian initiative for Sustainable Growth and Employment, Vucic said that Serbia was "more honest" – considering refugees crisis – than "a number of EU members". Serbian PM accused these EU members – he was not more specific – for "taking money from the Germans" and then failing to participate in resolving refugees issue in adequate manner.
"We don't need money, we can accommodate a certain number of people, but Serbia cannot withstand hundreds of thousands", the premier stressed.
Serbia has financed the costs of migrants from its own budget, Vucic said. He praised Germany for its striving to find a solution "while the most of the other countries endeavor to protect themselves and their particular interests rather than the interests of the EU".
German Ambassador in Serbia Axel Ditmann said that EU's cooperation with Serbia on the refugee crisis was excellent.