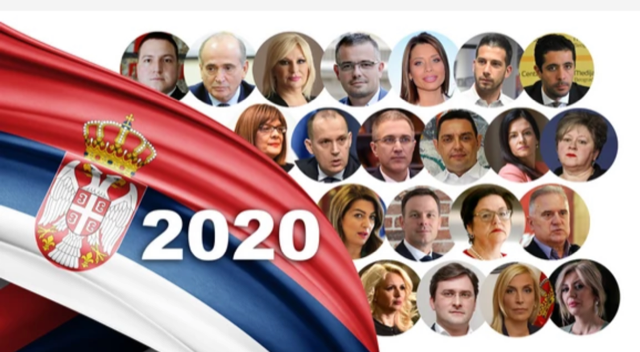 Serbia's new government will be formed on Wednesday (October 28th) after the National Assembly approves the bill on ministries. Ana Brnabić's cabinet will consist of 21 Ministries, while there will also be ministers without portfolios, as decided on Sunday at the SNS Presidency meeting. Although the list of ministers was announced after the meeting, there are still some grey zones. That is, the SPS did not officially announce who from the party would head the Ministry of Education that belongs to them, nor who will be the minister without a portfolio. However, Branko Ruzic and Novica Toncev are expected to take these positions. What is more, the issue of the SNS minister without a portfolio is also pending.
The governing majority includes almost all of Serbia's parliamentary parties except for two minorities, and will have the support of almost 250 lawmakers. Even before its formation, the government's time horizon was limited to one and a half years and its work will focus on the fight against the coronavirus pandemic and the consequences of the crisis that derived from it.
Additionally, this government has a scheduled expiration date no later than 2022, when joint elections are expected at all levels, resulting to a rather specific program in many aspects. Also after two decades, Rasim Ljajić will not participate, while Aleksandar Antić from the SPS will not have a ministerial post after two terms in government.
Another peculiarity is that, for the first time, 11 members of the Council of Ministers are women. In addition, several of the participants are first-time members, while a large number of Ministers were also members of the previous government.
The cooperating parties of the SNS coalition, the Socialist SPS and the SPAS will each be given one ministry, with the SPS also having a minister without portfolio who will be appointed later, with SPS Vice President Novica Toncev being rumored to be clinching the spot.
Of the 11 ministers who are no longer in government, five come either from the SNS or were appointed to a ministry following a proposal by the SNS. On the other hand, the Progressive Party left up to seven former ministers in the government – five retained their portfolios – Sinisa Mali, Branislav Nedimovic, Jadranka Joksimovic, Vanja Udovicic and Zlatibor Loncar, while Zorana Mihajlovic took over the Ministry of Energy and Nebojsa Stefanovic substituted Aleksandar Vulin at the Ministry. A total of 11 of the 21 Ministers are full-blood SNS deputies.
The Socialists, on the other hand, have lost three ministerial posts as, instead of the previous five, they will only have two ministries; the Ministry of Education and one Minister without portfolio. The SPS will also have a managerial position in a public company.
In the government that is gasping its last breath, the SPS had four powerful Ministries; Foreign Affairs, Energy, State Administration and Local Government, and Environmental Protection.
Ministry of Foreign Affairs – Nikola Selaković
Ministry of Interior – Aleksandar Vulin
Ministry of Trade, Tourism and Telecommunications – Tatjana Matić
Ministry of Construction, Transport and Infrastructure – Tomislav Momirović
Ministry of Finance – Siniša Mali
Ministry of Economy – Andjelka Atanaskovic
Ministry of Agriculture, Forestry and Water Management – Branislav Nedimović
Ministry of Environmental Protection – Irena Vujović
Ministry of Mines and Energy – Zorana Mihajlović
Ministry of Justice – Maja Popović
Ministry of State Administration and Local Government – Marija Obradović
Ministry of Defense – Nebojsa Stefanovic
Ministry of Human and Minority Rights and Social Dialogue – Gordana Comic
Ministry of European Integration – Jadranka Joksimović
Ministry of Health – Zlatibor Lončar
Ministry of Labor, Employment, Veterans Affairs and Social Affairs – Darija Kisić Tepavčević
Ministry of Family Care and Demography – Ratko Dmitrović
Ministry of Youth and Sports – Vanja Udovic
Ministry of Culture and Information – Maja Gojković
Ministry of Village Care – Milan Krkobabic
Ministry of Education, Science and Technological Development – Branko Ružić /ibna