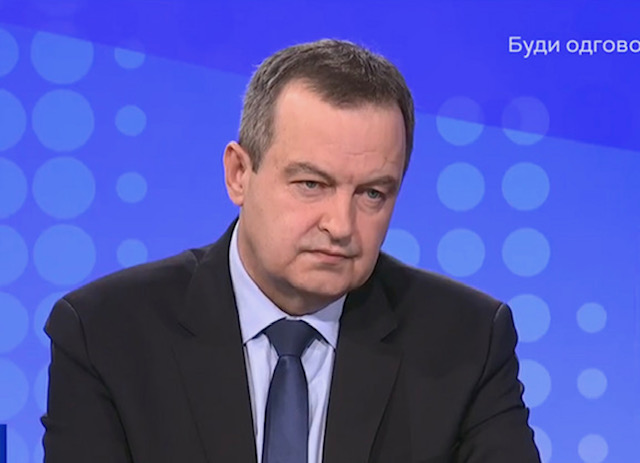 The President of the Socialist Party of Serbia and Minister of Foreign Affairs, Ivica Dačić, pointed out on Sunday night that the talks for the formation of a new government will continue after the visit of the American delegation to Serbia, with the participation of the US Special Envoy for the Belgrade-Pristina dialogue, Richard Grenell.
"I have said many times that we are ready to continue working with Aleksandar Vučić and the Serbian Progressive Party. We know that the SNS has the absolute majority and the decision on the government will be made by the winner of the elections. We talked about this for more than a month and we will continue the following. We are working with the President on all current issues. To be realistic, if the US delegation comes next week that means we will deal with it in the coming days, and then move on to other activities. We did not talk about personal issues", Dačić said as a guest on "Hit Tweet".
Regarding the situation in Montenegro after the elections, as well as the criticism leveled at him by the President of Montenegro, Dačić pointed out that Milo Đukanović "lost his bearings".
"It is certain that Milo Đukanović has lost his bearings; I have not yet met a Montenegrin who would like to go to the forest. This policy has greatly promoted hatred and fear of Serbs. He returned the situation to where he began his political career. I have known him for over 30 years and now he is in the "Milo vs. Milo" situation. He came to power thanks to the uprising of the people led by Momir Bulatović and himself. "At that time, he said that the Montenegrin leadership frightened the people with the policy of Greater Serbia in order to stay in power, and that is exactly what he is doing now", Dačić said.
He added that he does not know any of the leaders of the coalition winners in Montenegro, but expects them to improve relations with Serbia.
"Serbia did nothing against Montenegro. All we are interested in is the position of the Serbs and that is where we are facing problems. How do we intervene in their elections? Did Vucic call on anyone to support Serbian parties? If he called? Rama, Izetbegović, Haradinaj … Milo did not lose to Serbia, he lost from his people. The Serbs there are 29%, that is not enough to win. I do not know Dritan Abazović, Zdravko Krivokapić, Aleksa Bečić… But we expect the government to help improve relations with Serbia, but also to change the position of Serbs in Montenegro", Dačić pointed out.