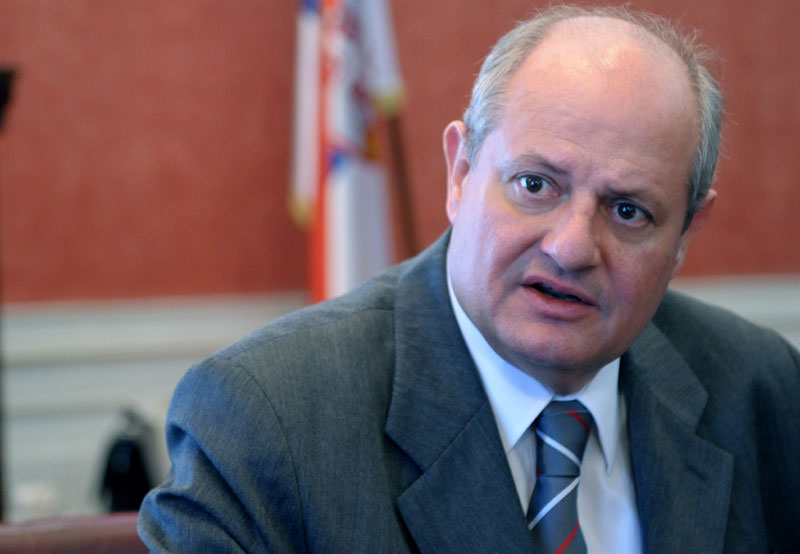 By Milos Mitrovic – Belgrade
"I expect that the agreement about the exchange of the liaison officers between Belgrade and Pristina should be concluded next month", Serbian Foreign Minister Ivan Mrkic(photo) said in the interview for Belgrade "Danas" Daily. He added that "sui generis" model for the improvement of the communication between Belgrade and Pristina would be implemented at the same time".
Mrkic believes that the current stagnation regarding the negotiations between Belgrade and Pristina, which are expected to implement the Brussels agreement about the normalization of their relations, would be overcome. "We will do our best to make this negotiations fruitful. However, it seems that Pristina assumes that we will get nervous and make some ill-judged moves as the June is approaching", Mrkic said.
The implementation of the Brussels agreement is the main precondition for the start of Serbian EU membership negotiations. Serbian Government expects that the EU Council will grant the date for the start of negotiations during its summit, which is to be held on June 28th.
Serbia will not get nervous, Mrkic stressed. "We will not allow anything (during the negotiations with Pristina) to harm our interests", he said.
When it comes to the opposing the Brussels agreement by Serbs leaders from the north of Kosovo, Mrkic said he was rather optimistic. "I think that everything became much clearer to our citizens from the north of Kosovo, after Deputy PM Aleksandar Vucic had been talking to them on Sunday. It would be much easier for them to make a decision (regarding the Brussels agreement) after his visit", Mrkic said.
"The gap between the authorities in Belgrade and the representatives of the Kosovo Serbs is not so deep any more", Aleksandar Vučić said for daily "Vecernje novosti" on Monday. "That still does not mean that they will easily accept the implementation of the Brussels agreement", he added.
Belgrade has no intention of forcefully persuading Northern Kosovo Serbs to accept the Brussels deal, FM Mrkic said. "Serbian people have always been undefeated while being united. I believe this time this will be the case too", Mrkic stressed.
Mrkic said that he believed that the EU Council would grant the date for the start of the accession negotiations with Serbia during its summit in June. Serbian Government has already initiated the process of creating a team that will negotiate with Brussels, if we get the date", Mrkic rendered