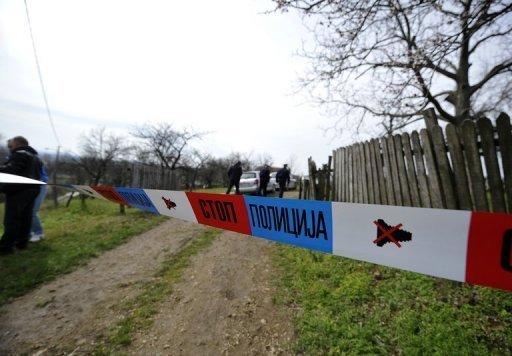 By Milos Mitrovic – Belgrade
The National day of mourning was proclaimed by Serbian Government after 13 persons had been killed in a village near Belgrade yesterday. Being the biggest mass murder in Serbia in decades, this is also the top story in today's Belgrade press.
Ljubisa Bogdanovic (60) shot 13 persons in village Velika Ivanca.  All of them were his relatives, including a two years old boy. According to the Ministry for Internal Affairs, police prevented even worse massacre, since after Bogdanovic saw the policeme, he stopped and shot himself. Twelve persons died immediately while thirteenth victim died during her transportation to hospital. Bogdanovic and his wife, whom he also tryed to kill, are hospitalized in Belgrade. They are severely injured.
Serbian Prime Minister Ivica Dacic, who is also Serbian Minister for Internal Affairs, stressed that general condemnation of the crime is "not enough". The whole Serbian society should discuss why mass murders are occuring, Dacic said. In 2007 similar crime occurred in village Jabukovac, in the East of Serbia, when nine people were killed. "We are indicating in our Ministry's reports that the number of family crimes is growing. All stipulations in Weapons act should be reassessed", Dacic rendered.
The motive for the yesterday's crime is not clear. The villagers of Velika Ivanca claimed for "Danas" daily that Bogdanovic has not been depressed even though he had lost his job last year. According to "Politika" daily, Bogdanovic was in "a good mood" day before. He was known as a quiet person, as residents said. However, Bogdanović s spouse Javorka said for "Vecernje novosti" that he was short-tempered.
According to the last reports Javorka Bogdanovic has head and neck wounds but she feels a little bit better.
Bogdanovic took part in the war in Croatia in 1995, police revealed. However, Health Minister Slavica Djukic Dejanovic said that this "definitely" could not be the trigger of the crime.
"This cannot be the direct cause. War traumas and its PTSP consequences could last few days to several weeks after trauma occurred", Dejanovic, who is psychiatrist, said for Radio Television of Serbia.