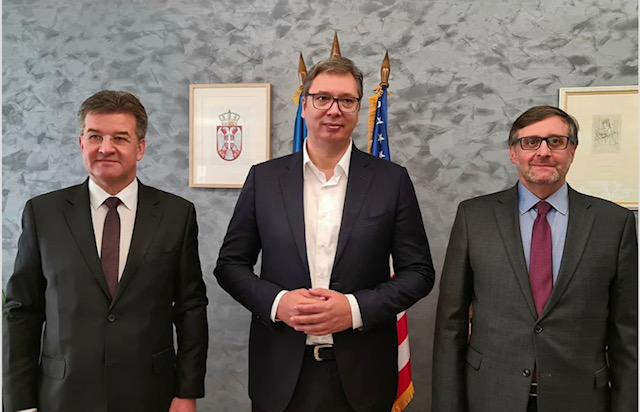 Serbian President Aleksandar Vucic met today in Brussels with the EU High Representative for Foreign Affairs and Security Policy and Vice-President of the European Commission Josep Borrell, the EU Special Representative for the Belgrade-Pristina Dialogue Miroslav Lajcak and Kosovar Prime Minister Avdullah Hoti.
Following his meeting with Avdullah Hoti, the Serbian President stated that "today, two new issues have been opened; one is the Union of Serbian Municipalities, the other is the issue of property and financial claims that we demand from each other. The most important questions are about to be tabled; it will be complicated, it will be difficult, but it is what it is".
Vučić told reporters in Brussels that he spoke with Avdulah Hoti and Skender Hyseni in two sessions during the day, adding that these talks were never easy or simple for Belgrade. As he said, a mechanism was agreed today for the identification of and the access to the files of the displaced and the missing persons.
"We have harmonized our views on missing persons, internally displaced persons and financial issues. For us, the most important thing is the free flow of capital, goods and services, it is extremely important to us. Many in Serbia underestimate it and are not interested in it, and these are vital issues. It is important to have a common labor market, goods that will bring progress throughout the region. This has been agreed", Vučić said, noting that the Washington agreement stipulated that Pristina would join the "mini-Schengen" initiative.
He noted that this would create a common labor and goods market,  and would contribute to the progress of the whole region.
Vučić added that the Pristina side would pass a law on the return of the displaced, stating that this was the insistence of the Serbian side. Although he does not expect too much progress on this issue, he stresses that it is a great achievement in the real results.
"I do not think it will be so big, but for those who want to live to old age or grow old by their fireplace, it will offer somewhat better conditions than they had until today. I'm talking about real life, expecting miracles is not objective and it is not realistic", Vučić said.
As for the Union of Serbian Municipalities, talks on the issue will continue on September 17th at the level of negotiating team leaders and then on September 28th at a high level.
As he stressed, as soon as the new government and the National Assembly are formed, "we will present what we are talking about in Kosovo and Metohija, what we are doing, what is good and what we do not expect".
"Once a new government is formed and the Assembly begins to function at full capacity, we will move forward before the Assembly on the issue of Kosovo and Metohija. We had it in parliament 5-6 months ago, but we want everyone involved in the talks to present to parliament what is being discussed, what we are doing, what is good and what we do not expect", Vučić said.
"I am not unhappy with that today, I expect the economic recovery of the Western Balkans to be discussed. Any assistance will help Serbia", Vučić said. /ibna