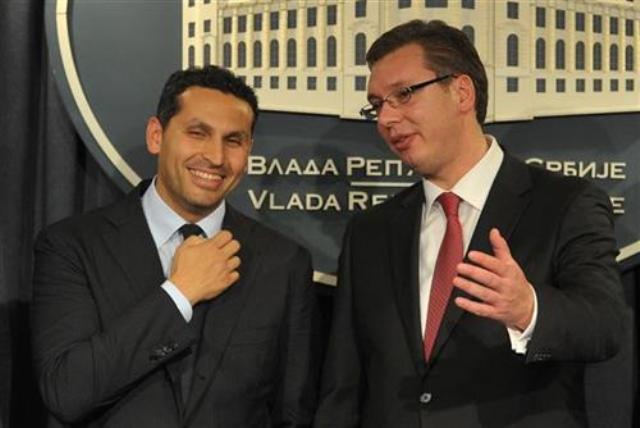 By Miloš Mitrović – Belgrade
If Serbia would implement the plans to construct a microchip factory and manufacture for airplane parts as well, the country may become "the little miracle of Balkan", Deputy Prime Minister Aleksandar Vučić said on Thursday. "I will do my best to that end", Vučić said at the press conference held after the respective memorandums with the representatives of the United Arab Emirates had been signed.
Vučić emphasized that all "Serbian intellect" should be engaged in order to fulfill "enormous demands for these factories construction". Deputy Prime Minister admitted that he "feels fear" with regard to implementing the plans. "I don't want to disappoint our friends from United Arab Emirates and myself as well".
Vučić said that constructing airplane components factory may be finished within two years. He recalled that UAE are among the most important air industry producers and predicted that Serbian foreign trade deficit would be "totally annulled" by constructing the airplane components factory. At the same time, Serbian annual export in this domain would reach EUR 400 million, Vučić added.
With regard to microchip factory, Deputy PM explained that the precondition for its construction was building a scientific research center.
UAE representatives and Vučić have also signed memorandum on cooperation in renewable energy sources domain. "Telekom", Serbian state-owned telecommunications company, and UAE`s "Mubadala Development" would consider data centers development in Serbia, Television B92 reported.
"Mubadala Development" CEO and Managing Director Khaldoon Khalifa Al Mubarak said that "another step in cooperation between UAE and Serbia had been made by signing the memorandums". Mubarak specified that all the domains of mutual cooperation "are exciting for investments". "These are domains for the future".
In September, Serbian government asked the UAE for a low-interest, long-term loan to repay some of the country's debts and invest in its ailing economy. Earlier this year, Serbia secured a 400 million-euro loan from the UAE to invest in agriculture. In August the wealthy UAE's "Etihad" airline purchased a 49 percent stake in Serbia's indebted Jat Airways. Vučić announced that the first Belgrade – Abu Dhabi flight of the new "Air Serbia" company would be launched on October 26th.