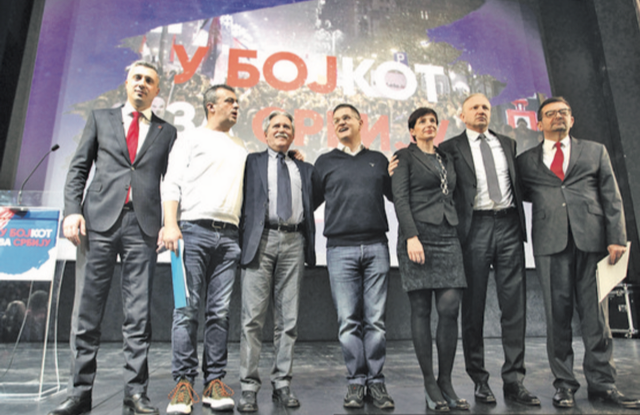 The Alliance for Serbia and PSG held a rally in Kombank Hall, where they signed a joint document officially launching the boycott of the elections.
Party of Freedom and Justice leader Dragan Đilas said part of the main opposition had yet to come up with a decision regarding the boycotting of the elections, but that this was what it meant to "listen to your people".
"We promise that we will fight for fair elections and for a change of system; that the best will be in their rightful place, regardless of their affiliation to a political party – that is our duty", Đilas stated addressing the crowd.
He also noted that those who ended up voting would be operating for the benefit of the leader of the Serbian Progressive Party, Aleksandar Vucic.
"There is only one name on these lists; Vucic, and anyone who sits in Parliament will be named Vucic", Đilas said. The leader of the Freedom and Justice Party noted it was a matter of honor today to fight the Government and, as he put it, to remain "on the other side".
Đilas went on to add that many had left Serbia because of Vucic's policies, but would be returning when he stepped down.
The leader of the People's Party, Vuk Jeremic, said that in normal countries there was no "us versus them" division, and Serbia was being exactly that kind of a state and a product of totalitarianism.
In Serbia, after eight years of empire turning into dictatorship, there are two sides – there is them and then there is us- they will find us in front of them. But not in the interest of parties or ideologies, but in order to make things normal in Serbia – Jeremic added.
He said there would be months of "lies and uproar" in the upcoming elections, where authorities would try to split and disorient the main opposition.
"Remember that whatever you do or say, stay home on election day. Do not go to democracy, to the local or provincial elections, because an ecumenical boycott is the only way forward", Jeremic concluded.
PSG President Sergey Trifunovic said he did not get into politics to "play" with Serbian President Aleksandar Vucic, but to throw him in the "trash of history". He added that the boycott did not mean he was resigning from politics. /ibna