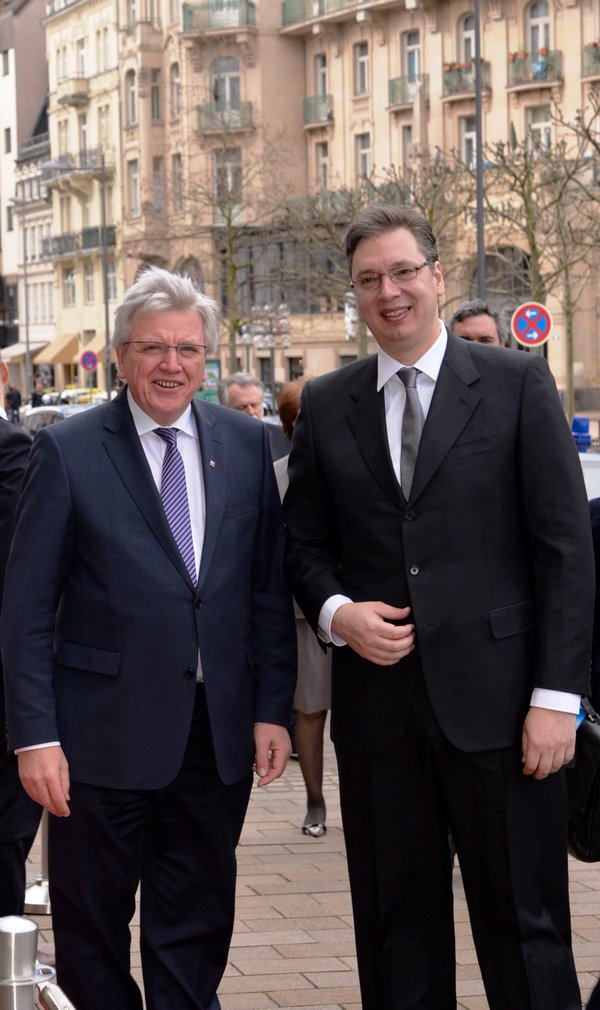 Belgrade, March 23, 2016/ Independent Balkan News Agency
By Milos Mitrovic
There are 370 German companies that operate in Serbia with several thousands employees; trade exchange of Serbia and German state Hesse has reached the value of more than 300 million euros in 2015.
Prime Minister Aleksandar Vucic stressed this after meeting with Hesse chancellor Volker Bouffier in Wiesbaden today. Bouffier has said that Serbia "is good place for the investments", Serbian media report. Vucic emphasized that Serbia "is loyal partner of Germany". As he said, he is especially satisfied because of the support of both Hesse and Germany to Serbian path to the European Union.
Vucic said that in 2015 Serbian exports to Germany have reached 1,5 billion euro, while 2 billion euros worth goods were imported from it. During his stay in Germany Vucic would visit two companies that want to invest in Serbia, as he said. He would also attend German-Serbian business forum in Frankfurt.
Premier invited Bouffier to visit Serbia, and Hesse chancellor said this may be realized in 2016. Vucic insisted that visit should occur this year.
"We would always be loyal friends of you, chancellor (Angela Merkel) and Germany", Vucic told Bouffier promising that Serbia would continue its efforts on "preserving peace and stability in the region".
Chancellor Bouffier said that he was "satisfied" with all he has discussed with Vucic, "especially terror attack in Brussels", Radio-Television of Serbia reported.
On Tuesday, German and Serbian interior ministers Thomas de Maizière and Nebojsa Stefanovic in Berlin have signed the agreement on more close cooperation between the polices of two countries. Deutsche Welle emphasized in its report that "Serbian nationals are frequent offenders in Germany" – taking fourth place on the list of German criminal bureau, behind Turks, Poles and Romanians (2014 data).
According to agreement, Germany and Serbia would intensify the exchange of liaison officers, as well as informations and the results of the investigations.
Photo: Aleksandar Vucic and Volker Bouffier