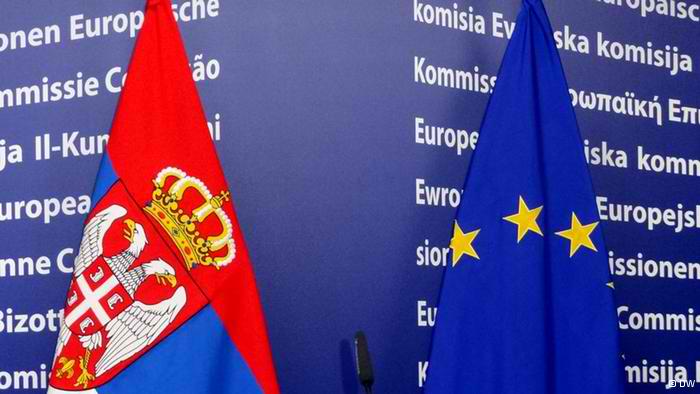 By Miloš Mitrović – Belgrade
"European Union's strict conditions regarding the accession negotiations with Serbia are the consequence of several factors, such as Europe's harsh economic crisis, EU`s citizens reservation toward the further enlargement process and the experiences with regard to previous enlargements", Tanja Miščević, chief Serbian negotiator with the EU, siad in the interview for Danas daily.
Miščević and Branko Ružić, Serbian minister in charge for EU affairs, have visited London and Berlin in order to "secure as good as possible negotiating framework and the start of the talks until the end of December", Miščević explained.
At the June Summit, European leaders have recommended the accession negotiations with Serbia to start "at the latest in January".
According to Tanja Miščević, during the talks in London and Berlin, she and Mr. Ružić did not requested any easing of conditions for Serbia; at the same time, she emphasized that conditions for the accession are not strict "because of Serbia itself".
Miščevićconfirmed Serbian objective was the EU intergovernmental conference – which means the formal start of negotiations – to be held on 22 December. "In that regard we are striving to achieve the administrative readiness level which is needed for the first intergovernmental conference". However, the precise date of launching the talks depend on EU member states, Mrs. Miščević recalled.
When asked on the importance of the talks about the normalization of the relations between Belgrade and Priština as an "standard for all the other negotiating chapters", Mščević said that the two issues should be complementary.
"The importance of normalizing Belgrade – Priština relations has not been underestimated by anyone, especially not by the Serbian government which is leading the process. Nonetheless, given the fact that this issue is an precedent in the enlargement  process so far, EU and its member states are trying to harmonize it with the accession talks; the first process should enhance the second and vice versa", Miščević explained.
She stressed that the credibility was the key element with regard to Serbian  relations with the EU and its member states. Serbia should convince its European partners that it honestly strives both the negotiations to be successful and reforms to be conducted in order to improve the lives of Serbian citizens rather than to achieve membership itself, Miščević said. This week Miščevic and Ružić will visit Rome and Paris in order to inform French and Italian officials about Serbian position on upcoming negotiations.