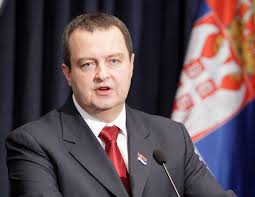 By Miloš Mitrović – Belgrade
Serbian Prime Minister Ivica Dačić has said government would "activate all the mechanisms in order to prevent the endeavors of Priština to avoid the procedures for gaining the membership in the international organizations". "If such endeavors would be launched we would demand explanations in Brussels, during the talks with Catherine Ashton", Dačić stressed.
Mrs. Ashton has been mediating the dialogue on normalization of Belgrade-Priština relations since October 2012.
Kosovo may participate only in the regional organizations summits; documents released at these summits should contain footnote that explains status of Kosovo was not prejudiced, Dačić said. This principle accepted by Priština had been applied during the previous regional summits.
Serbian foreign minister Ivan Mrkić explained that national delegations at the regional summits were obliged to follow the government instruction regarding the footnote; they have been also obliged to leave the summits in case the footnote was not included in the documents.
"Additionally, there is an instruction to lobby against the endeavors of Priština to become the member of the international organizations, OSCE or Council of Europe, for instance".
According to "Večernje novosti" daily, government has gave an order to all officials and diplomats to "give their maximum in lobbying against the Priština's strivings to become member of United Nations and its agencies as well as the member of OSCE, Council of Europe and international sports organizations such as FIFA, UEFA and FIBA.
Kosovo has succeeded to enter World Bank and International Monetary Fund; however, this was possible due to the fact that decision making process in these organizations is influenced by countries which have the biggest quotas in voting. United Kingdom, United States and Germany are among those countries and they are strong supporters of Kosovo's statehood.
On Friday, Dačić and Mrkić had a meeting with Hoyt Brian Yee, new US Deputy Assistant Secretary of State for European and Eurasian Affairs. Brian Yee has emphasized American support on the dialogue between Belgrade and Pristina, TV B92 reported.