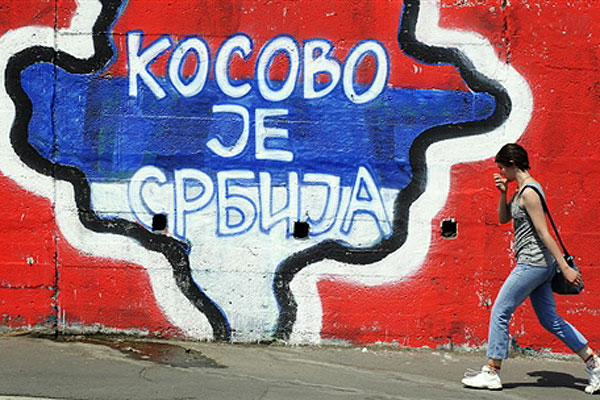 IBNA Special Report
Pristina, May 6, 2014/Independent Balkan News Agency
By Elton Tota
Republic of Serbia has started negotiations for the accession in the European Union (EU). But, it has not yet given up on Kosovo and its Constitution.
Analysts and constitutional experts say for IBNA that in the near future, Serbia must make constitutional amendments in order to give up on Kosovo once and for all, if it aims EU accession.
Professor of constitutional law, Fatos Rushiti told IBNA that in the future, it's necessary for Serbia to take the formal step and remove Kosovo as part of its territory from the Constitution. Rushiti says that EU has made it clear that Serbia cannot be part of this organization if it doesn't make this step official.
"The Serb government will face great pressure from the EU in order to remove Kosovo from the preamble of its Constitution. In the period to come, this will turn into an ultimatum for Serbia, therefore, it must give up from Kosovo as soon as possible in the legal aspect", says Rushiti.
The constitutional expert suggests that Belgrade must work in order to achieve Serbia's integration. "Serbia must take advantage in order to be fully integrated in the EU, of course, without Kosovo", says he.
Rushiti says that in the recent years, Serbia has had a will for consensus with Kosovo and calls for Belgrade to leave exaggerated nationalism behind. "There's a will as far as talks to reach a final agreement of reconciliation, cooperation and solidarity between the two nations is concerned. Serb politicians must be an important part of the contemporary political formation by encouraging and collaborating with civil society in order to gradually give up on exaggerated nationalism and to find it easier to make constitutional amendments as far as the removal of Kosovo as an integral part of the Constitution of Serbia is concerned", says Rushiti.
According to him, a strong and clear political leadership is needed for this. According to Rushiti, Serbia is not lacking this with Aleksandar Vucic as its prime minister.
"The current prime minister has an absolute majority in parliament and such decision for constitutional changes cannot cause eventual turmoil without political support of the opposition which now has minimal numbers in parliament", says Rushiti.
He says that Serbia must now choose between EU and Russia.
"Politics driven toward west and not east, which aim the full accession in the EU, must be accompanied by a political discourse with practical and tangible engagements for the citizens, in order for them to be driven toward economic interests and not dream irrationally on Kosovo", says he.
Professor of constitutional law, Berat Aqifi told IBNA that he believes that the amendments of the Serb Constitution, by amending the preamble on Kosovo, would unblock the process of the accession of Serbia in the EU.
"Without amending its highest legal act, it's impossible for Serbia to adhere in the EU. The process of negotiations for accession will require amendments and harmonization of the current legislation, which in several cases also includes issues within the territory of Kosovo", says Aqifi.
"This issue is highly complicated, because Serbia continues not to recognize the Republic of Kosovo and under its Constitution of 2006, it considers Kosovo as part of its territory", says he.
According to the constitutional expert, relations between Belgrade and Pristina will only normalize once there are normal, legal and constitutional conditions, based on reciprocity as two equal, independent and sovereign states.
Prominent analyst and expert of political developments in Kosovo, Azem Vllasi says that in the framework of talks being held in Brussels with Serbia, Kosovo authorities must demand for Serbia to remove Kosovo from its Constitution.
According to him, there's no point in continuing talks with Serbia, which aims to become part of the European Union, by treating Kosovo as part of its territory.
"It's  time for the Kosovo delegation to demand in the Brussels talks for Serbia to remove Kosovo from its Constitution. For as long as Kosovo is part of the Constitution of Serbia, Belgrade will consider it part of its state. On the other hand, Serbia also wants to be part of the European Union, by treating Kosovo as its part, which means that it still has territorial claims over Kosovo. But, talks cannot continue with such Serbia", says Vllasi.
A while ago, this issue became a topic of discussions in the process of negotiations for the normalization of relations between Kosovo and Serbia.
A meeting was suspended following a verbal clash between prime minister Thaci and deputy prime minister of Serbia, Aleksandar Vucic. The latter told Thaci that Serbia has its own Constitution and that Kosovo is part of it.
Prime minister Thaci reacted: "I'm not interested as to what your Constitution says. We have our own Constitution and our own state. If you want to stay in the meeting, you can, if not, you can leave". /ibna/