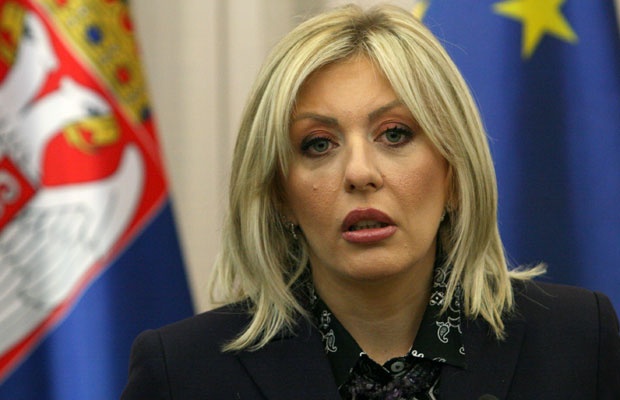 The International Secretary of the Serbian Progressive Party (SNS), Jadranka Joksimović, informed the European People's Party (EPP), of which the SNS is an active member, about the recent, as she said, disturbing events in front of the National Assembly.
In a letter to the EPP, Joksimović said that on May 8, supporters of the Dveri movement, led by their leader Bosko Obradovic, physically attacked Marijan Rističević, a Member of Parliament and President of the People's Farmers' Party, and tried to prevent them Minister of Health Zlatibor Lončar from entering the parliament building.
He stressed that representatives of the Dveri Movement and the Alliance for Serbia (SZS) had highlighted the continuation of the promotion and use of violence as a method of political struggle, and called on the EPP to closely monitor the activities of a part of the opposition and condemn all forms of violence.
"An indication that SZS is not interested in legally gaining the trust of citizens in the elections is the fact that a year ago they did not want to participate neither in the government-opposition dialogue to improve the conditions of the elections, nor in the dialogue between the parties, at the invitation of representatives of the European Parliament Vladimír Bilčík and Tanja Fajon", Joksimović reminded.
According to the letter, the parliamentary and local elections in Serbia will be held on June 21, and will also be an opportunity for all citizens to express their political will, but also an opportunity for political parties to present their programmes, in a0 serious and responsible manner.
She also informed that Serbian President Aleksandar Vucic had called on all political actors to take part in the elections and to hold the election campaign without the use of violence and with respect for their political opponents, regardless of their political affiliation.
"In Serbia, as a pluralistic democratic society, the introduction of violence into the political struggle will not be tolerated. The SNS will fight vigorously and consistently against all forms of violence and will promote dialogue as the only right way to achieve long-term sustainable democratic values ​​in society", Joksimović said./ibna