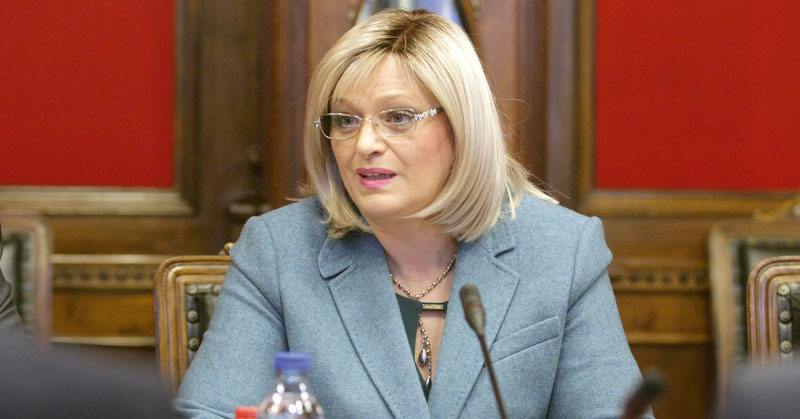 National Bank of Serbia Governor (NBS) Jorgovanka Tabakovic says Serbia is paying all debts dating back to the 1990s, including the loans of Kosovo.
This is done because according to the Constitution this territory is a part of Serbia.
"This is specific. Serbia is paying that debt, because it considers Kosovo a part of its territory," Tabakovic told a joint news conference with IMF mission head James Roaf and Finance Minister Dusan Vujovic.
"All loans from the 1990s onward, at the level of the IMF, whose member we are, are being regularly harmonized and checked. We submit monthly reports on the state of those loans, not just the one we have within the problematic part of the territory of the Republic of Serbia which is Kosovo, but also all overdue debts from the 1990s with the Czech Republic, Libya, etc.," said the governor.
The NBS is sending a report about the amount that is paid each month to the Ministry of Finance, "and whatever the amount is, it is important because the state must pay it," said she.
Tabakovic said the central bank's biggest success was reducing the share of problematic loans in the total placement of banks, and specified their level went down by five percentage points, to 16.5 percent, through implementing a strategy and an action plan of the NBS, brought under the auspices of the IMF.
Speaking during the same news conference, James Roaf said that the government and the National Bank of Serbia have strengthened the national economy "dramatically."
"After five years of slow growth, an unsustainable fiscal position and NPLs in banks, a great turnaround in macroeconomic results has taken place," Roaf said, at the end of IMF's visit aimed at conducting the seventh review under the IMF's stand-by arrangement with Serbia.
The main condition for approval of the seventh review under the stand-by arrangement the IMF has with Serbia is related to the public sector salary system as passage of legislation has been delayed by elections, he said on Wednesday, adding that potential salary and pension increases will be discussed during the IMF Mission's next visit to Serbia in September or October, and "urging moderation in this regard."
"Progress in passing legislation, which is also a part of the public administration reform, is required," Roaf said.
According to Dusan Vujovic, Serbia has performed well in the seventh review of its precautionary stand-by arrangement with the IMF.
"The government-planned GDP growth rate for 2017 is still 3.0 percent, public debt is down to 67.1 percent, while the budget deficit projection has been revised downward from 1.7 percent to 1.3 percent," Vujovic told the press conference, held at the seat of the Serbian government in Belgrade./IBNA
Source: B92