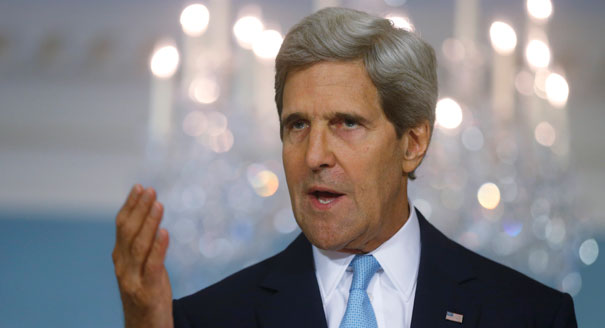 Belgrade, February 27, 2015/ Independent Balkan News Agency
By Milos Mitrovic
United States Secretary of State John Kerry has underlined Serbia's role considering implementation Minsk agreement on cease-fire in Ukraine. This year Serbia presides over OSCE, organization which plays an important role in resolving Ukraine crisis.
"Serbia is taking on an increasingly important role in many respects. First of all, they are assuming the chairmanship of the OSCE. And this comes at a really important time given the Minsk agreement, the efforts that we are all making to try to see that agreement implemented. … We will all be looking for accountability in the process of trying to stabilize Ukraine, the eastern part of Ukraine, and see if we can't get on a different road. The OSCE observation/observer status is absolutely critical to our ability to know which side, both sides are adhering to the agreements, and so we welcome the assumption of this responsibility", Kerry said.
Kerry also "applauded" the dialogue between Belgrade and Pristina before meeting Serbian Foreign Minister and OSCE Chairman Ivica Dacic today in Washington.
State Secretary has hailed Serbia's European path.
"This is very important. It will require a process of reforms and engagement. We certainly look forward to working with Serbia in that endeavor", Kerry said.
Dacic  promised that Serbia "will be fully committed to the principles and commitments, having in mind that Yugoslavia was one of the founders of the OSCE, and we will invest maximal efforts to contribute to have on this OSCE region and the whole (inaudible) from Vladivostok to Vancouver to bring about peace and to coordinate all our actions".
He has invited Kerry to visit Belgrade.
"It is going to be my distinct pleasure for – to invite Mr. Secretary of State, Mr. Kerry, to come and attend a Ministerial Council (OSCE) meeting in Belgrade in December this year".
Dacic admitted that "we are extremely joyful and happy due to the fact that we will see more frequent visits and the dynamic of our relations extend and expand".
"And I have to say that we cannot even remember who was the last president of the United States who visited Serbia", he added. "I think that this was Mr. Ford".
On Wednesday, Kerry said that Serbia is "in line of fire", together with Kosovo, Montenegro, Macedonia, and others, Georgia, Moldova, Transnistria", regarding Western dispute with Russia over Ukraine. Analysts in Serbia believe that country will face pressures from both sides in order to decide between West and Russia, in contrast to current balanced approach in foreign policy.