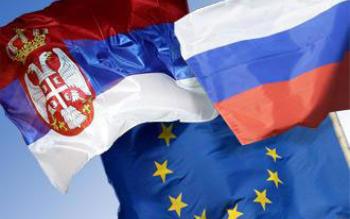 By Milos Mitrovic – Belgrade
"Serbia is in the path to Europe and it doesn't hide this from anyone, including Russia. Serbia wants good relations with the Russian Federation and I did not hide this in Paris; I think this is the fairest approach", Prime Minister Aleksandar Vucic said. On Thursday, Vucic visited France where he met Prime Minister Manuel Valls; on Monday, he is scheduled to talk with Russian President Vladimir Putin in Moscow.
For today's edition of Belgrade daily "Vecernje novosti" Vucic said he expects "good and open talks" in Moscow. "Russians will propose some ideas on cooperation, but will also deliver some remarks", Vucic said specifying that "remarks" may include Serbian debt for the Russian gas, "slightly less than 300 million Euros".
"We will focus this issue with them (Russians). We will suggest our intentions for good cooperation and, probably, some objections", Vucic added.
When asked about the possibility for Serbia to use 800 million Euros  Russian loan designed for the reconstruction of Serbian railways, Prime Minister said that part of the funding has already been collected. "We still don't know how to spend the part of it, this is our well known blemish. We will discuss it", Vucic said.
Regarding Ukraine crisis the premier reiterated that Serbia "respects the territorial integrity of Ukraine, but will not impose sanctions to Russia".
In regard to his visit to France, Vucic said that Paris has supported the serbian reform efforts. "A number of French companies are very eager to start a business in Serbia. I expect that company "Hutchinson", which produces auto tires will come to Serbia. They are interested to employ between 300 and 500 people. Other important companies are "Vichy" and "Alstom", the strongest French companies to come to Serbia. We are close to discussions on calling the auctions", PM explained.
When asked "how will French concretely help us regarding the projects", Vucic said that for Serbia it is important to avoid loans that increase the public debt. "French Economy Minister Arnaud Montebourg told us that France is able to help us significantly", Vucic explained adding that the French government is ready to provide its support regardless of the fact that the private companies are also considering it.