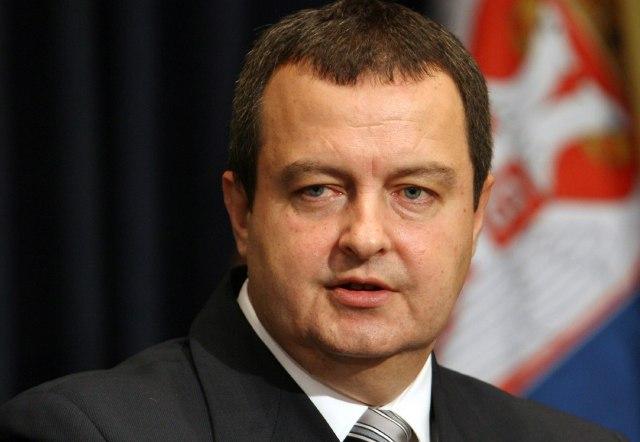 By Milos Mitrovic – Belgrade
Brussels had been informed about "sufficient reason and condition" of Belgrade for accepting a deal on normalizing relations with Pristina, Serbian Prime Minister Ivica Dacic said on Tuesday. Dacic revealed that this would be the issue during his talks with Kosovo Prime Minister Hashim Taci in Brussels on Wednesday.
"Several questions, which were considered by Belgrade to be necessary for the agreement, had been defined during the last couple of days", Dacic specified for Tanjug news agency.
"Belgrade has no secrets, a hidden plan or the intention to take part in the negotiations that are going to fail, on the contrary", Dacic stressed. He reiterated that resolving the issue of jurisdiction for Northern Kosovo, mostly populated by Serbs, is of a "vital importance". Belgrade demands that Serbian municipalities in Northern Kosovo take control over local police and judiciary, without the presence of prospective Kosovo military forces on this territory. Until this moment, Pristina has been refusing this solution with the explanation that it would trigger separatism of Kosovo Serbs.
European Union Enlargement Commissioner Stefan Fule said that the adoption of the report on Serbia and Kosovo EU accession process had been postponed due to another negotiations round between Belgrade and Pristina that was to be held on Wednesday. On Tuesday, Fule called Serbian and Kosovo leaders "to use this historic opportunity, because it is the interest of Serbia, Kosovo, and their respective citizens, in the interest of Western Balkans and of EU".
Fule explained that he and EU High Representative Katherine Ashton expect that PMs of both Kosovo and Serbia would find the solution and reach the agreement, "what would not only represent a positive signal that they would take the historic opportunity for normalization of relations between Serbia and Kosovo, but also that they both would benefit from the EU offers". By this he meant that Serbia would benefit from beginning of the accession talks with EU and Kosovo from the association agreement.
German Minister of the foreign affairs, Guido Westerwelle, who met on Tuesday in Berlin with his colleague from Kosovo, Enver Hoxhaj, said that Kosovo would not be shackled because of Serbian unwillingness. "When one country offers the results, and the other one does not, the one that is moving, that is having the results, that is accomplishing its assignments, must not be considered responsible for the unwillingness of the second one", German minister said.