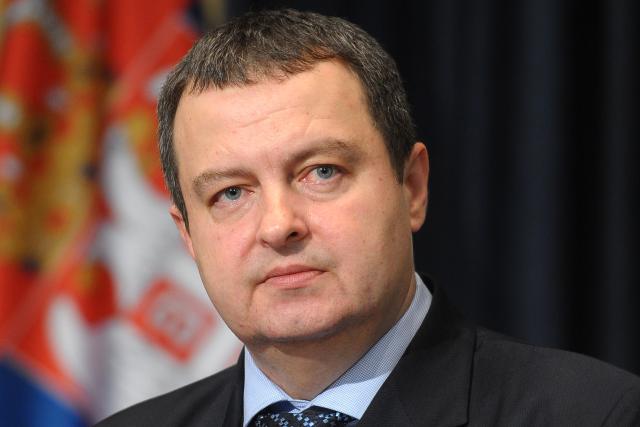 Belgrade, December 11, 2015/Independent Balkan News Agency
By Milos Mitrovic
Former Yugoslav Republic of Macedonia demands from Serbia to remove the road signs with "FYROM" abbreviation from its highway, Foreign Ministry in Skopje stated on Thursday. But Serbian Foreign Minister Ivica Dacic (photo) rebuffed Skopje's request. Belgrade has recognized Skopje under its constitutional name in 1990s.
"Now they complain about the road sign, and we should not complain because they have voted in favor of Kosovo's membership in UNESCO", Dacic explained. Skopje's decision to support Kosovo's bid at UNESCO General Conference earlier this year caused dissatisfaction in Belgrade.
Serbian Ambassador in Skopje Dusanka Divjak Tomic, which was summoned in FYROM Foreign Ministry, has been informed by the authorities of the former Yugoslav republic that Belgrade should remove the road signs. At the same time, Skopje requests installing new signs with constitutional name of the country.
"We expect positive response from our colleagues in Serbia in the spirit of good neighboring relations", Ministry in Skopje underlined.
Serbian FM Dacic told Vecernje novosti daily that he could not accept remarks from Skopje. He explained that Ambassador Divjak Tomis has informed FYROM authorities Serbia's position, recalling to Skopje's voting in UNESCO.
Dacic categorically said that road signs would not be dismantled. "It is high time for us to stop acting contrary to our own interests. It's true that Serbia recognizes Macedonia under this name, unlike European countries, but such decision has been made even during the rule of Milosevic (Slobodan, former Serbian president) in 1990s. On the other hand, Macedonia has recognized Kosovo's independence and now they are complaining on some inscription. It's unimaginable that, for example, Indonesia is better friend to us than some neighboring countries", Dacic concluded.
At October UNESCO voting ,Montenegro alongside with FYROM was supportive to Kosovo's application. In reaction, Serbian PM Aleksandar Vucic said that Belgrade would remember the decisions of FYROM and Montenegro. "I don't believe we will be supportive to their causes at international stage", Dacic said at a time.