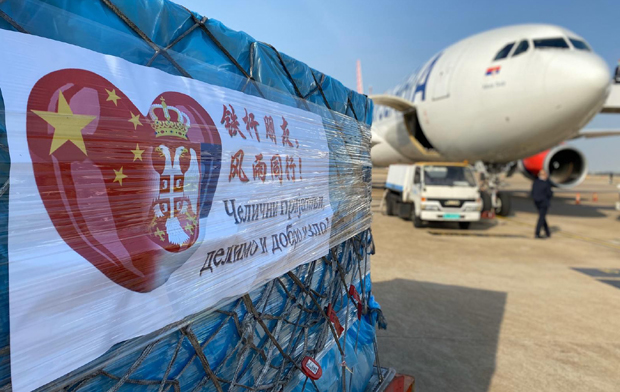 Another plane landed at the Belgrade airport carrying medical assistance from the P.R. China, including laboratory equipment, 90,000 test kits and other products needed to combat the spread of coronavirus.
"By setting up this lab in Serbia, starting Monday we will able to carry out 2,000 tests a day", said Deputy Health Minister Berislav Vekic, adding that the second lab will be assembled in Niš with the capacity to analyze 1,000 samples per day.
China's ambassador to Serbia Chen Bo stated that an agreement had been signed a week ago to jointly build the lab; experts from China arrived two days ago, and now part of the equipment for the labs has landed.
"Increasing our ability to conduct tests on the population is very important in containing the coronavirus pandemic. These days, Serbia is going through its most difficult period and yesterday the presidents of Serbia and China had a chance to speak over the phone".
Minister of Mining and Energy Aleksandar Antic said the arrival of this plane was undoubtedly something that should encourage Serbian citizens.
"Serbia is fighting hard against the epidemic; we are producing good results and I want to praise all the people in Serbia who are contributing to all this", Antic said.
As he said, this equipment constituted a new reason to feel optimistic.
"As we stood by our brothers in China when they faced this problem, today we feel them next to us. The two nations have a sincere friendship and even thousands of miles of distance cannot stand in its way", Antic continued.
The cost of the donation amounts to 710,000 euros, with Serbia participating with 140,000 euros to purchase the 90,000 tests.
Simon Ling, a spokesman for Zidjin, expressed satisfaction with the Zidjin Group and its two companies operating in Serbia, noting that the mining company had a mission to help and work for the benefit of society as a whole, especially amidst this difficult time of COVID-19.
"We donated two laboratories and protective equipment to Voivodina, Bor and Majdanpek in Serbia", said Ling.
Terence Xiong of the BGI Institute said that, once the laboratories were operational, the number of tests conducted in Serbia would triple, adding that if everything went according to plan after checking the equipment, it would start installing in the morning and expressed hope that it would be operational as soon as next week.
"Doubling the test ability and, when it becomes functional in Niš, tripling the number. I am sure that what we have achieved in Wuhan we will achieve together here in Serbia. I wish everyone good health and victory as soon as possible", said Xiong. /ibna