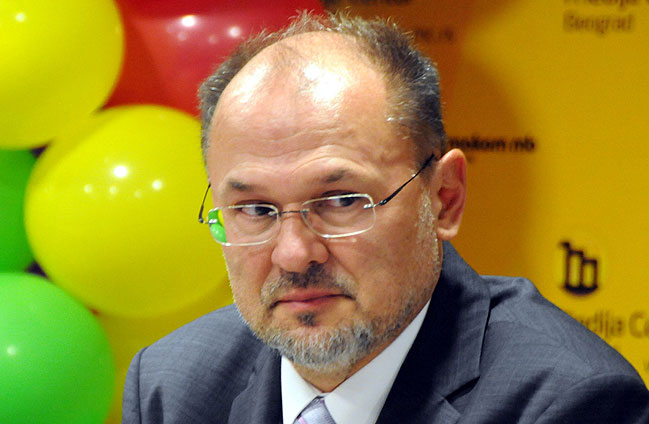 By Milos Mitrovic – Belgrade
The Head of the European Parliament envoy in Serbia, Jelko Kacin (photo), said he expects Serbia to position itself with regard to Ukraine crisis in accordance with European Union policy.
"We hope that Serbia will understand what is it about and formulate a position, which will be close to that of EU. Montenegro has already done so", Kacin (photo) told reporters after the meeting of Slovenian business club in Belgrade.
Six European countries, which are not EU member states joined Brussels sanctions against Ukraine ex-president Victor Yanukovich and his regime officials, the cabinet of EU High Representative for Foreign Affairs and Security Policy Catherine Ashton stated earlier this week. Montenegro, Albania, Iceland and Moldavia imposed sanctions in accordance with Agreements on stabilization and accession they had signed with the EU.
Serbian government source told "Danas" daily that "the government in technical term cannot comment a political situation in the world". After March 16 elections, Serbian Progressive Party (SNS) leader and current Deputy PM Aleksandar Vucic announced that the new cabinet will be formed at the latest around May 1. It is widely expected that Vucic will be the new Prime Minister, given the fact that Progressives – with their strong pro-EU rhetoric – have won the absolute majority.
"The new Serbian Government will explain its position in regard to the situation in Ukraine and Crimea", a government source told "Danas".
On Wednesday, current Serbian foreign minister Ivan Mrkic was informed of the European Union position towards Ukraine crisis by the EU ambassador in Serbia Michael Davenport. Mr. Davenport delivered Mrkic a message by Catherine Ashton. The Russian ambassador in Serbia, Alexander Chepurin, delivered Mrkic a message by Russian Federation foreign minister Sergey Lavrov.