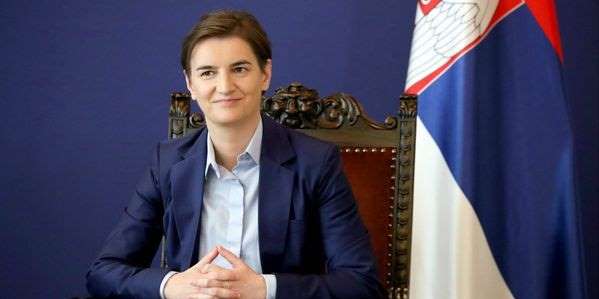 Speaking to RTS, Serbian Prime Minister Ana Brnabic said that such a large US delegation had never visited Serbia and that now everything depended on them. She went on to say that five issues were discussed and that the arrival of the DFC is a clear message of how stable Serbia is.
Ana Brnabić stressed that a proposal describes everything, and this is a new era in political and economic relations between Serbia and the United States.
"This is best summed up by the agreement in Washington, which was very well negotiated by President Vučić and our delegation. We have the first such agreement signed after 140 years between Serbia and the United States. "Never before has such a large US delegation visited Serbia", said the Serbian Prime Minister.
Asked if it was a closer relationship, Brnabic said it was incomparably better.
"I would not say closer relations; I do not remember when such relations existed; I really do not remember such close relations", said the Prime Minister.
"Yesterday, before the meeting, Adam Bohler said that Serbia has managed to strengthen its economy and private sector over the last seven years, so that today there is an atmosphere and environment in which the DFC can come and invest", Brnabic noted.
"It is a clear message of how stronger and more stable Serbia is in seven years. Now it's up to us, and that's how fast our companies will be ready and have ideas".
She said that five issues were discussed, first of all infrastructure projects where there are projects worth four billion euros, of which the priority is the Mira (Peace) highway.
"We are talking to DFC about Plocnik-Merdare and the Nis-Kursumlija-Priluzje-Pristina railway. There is also a guarantee scheme for small and medium-sized enterprises, where DFC will provide billions of dollars in loans. For our part, we will cover this risk of the first loss. "We have estimated that we will benefit much more from the billion-dollars loan provided by the DFC", she said.
The third area, she added, is everything related to the "Mini-Schengen" initiative and the fourth issue was the conditions for economic growth.
"In the agricultural sector, we have support for women entrepreneurship and young farmers. Now with the presence of DFC we have access to unlimited money. "How much we will use depends on us and our projects", said the Prime Minister.
Yesterday's meeting, Brnabic noted, was mainly about financial issues.
Ambassador Grenell also mentioned this at the meeting. He said that when President Trump appointed him special envoy, he told him to think differently and think about financial normalization. This is in line with what President Vučić has been trying to do all these years. "Let's talk about how people live, what their salaries are, what their schools for children are like, and then we can create conditions and talk about politics in a different way", Brnabić said.
When asked about the new government, he said the president would decide on it.
Prime Minister Ana Brnabić said that Serbian President Aleksandar Vučić would decide on the composition and mandate of the new government, adding that she had spoken to him about it without giving further details.
"I can not answer the question whether I will remain in the post of Prime Minister because the President decides on the Prime Minister. I discussed it with the President, we will see how everything goes. Nobody sits idle; you should see how much work is being done, how dynamic this last month period was", Brnabić stressed.
"The people are not losing anything and we have time until November 3 for the government, we are not sitting idle, above all, President Vučić", Brnabić said./ibna