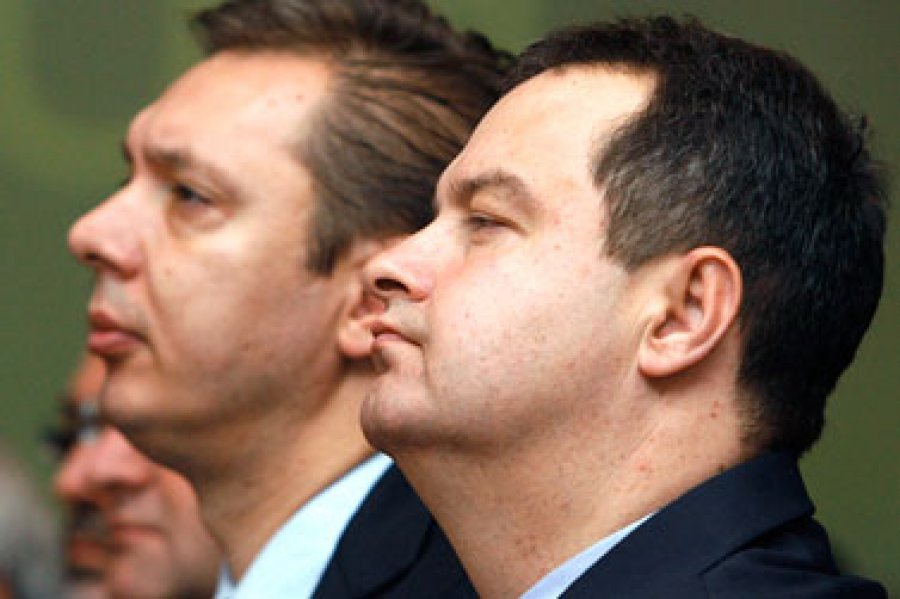 By Milos Mitrovic – Belgrade
Serbian Prime Minister Ivica Dacic received confirmation that Serbia would get the date for starting accession negotiations with the European Union, after Belgrade and Pristina had been signed the agreement about normalization of relations last week. He said that he asked EU High Commissioner Catherine Ashton, who had been mediating dialogue between Belgrade and Pristina, about the date.
"The answer was positive", Dacic said for "Blic" daily. However, he stressed that the date for EU membership negotiations should not be perceived as a reward for Belgrade for reaching the deal with Pristina. Dacic reiterated that Serbia, by accepting the deal, did not recognize independence of Kosovo, as some Serbian opposition parties stated. He recalled that the best possible agreement for Kosovo Serbs had been brokered, after several previous solutions had been rejected.
Deputy Prime Minister Aleksandar Vucic said that, according to the agreement, Serbs in the north of Kosovo would have "full control over police" in their municipalities and that they would elect their regional police commander. "This had been much more than they had until now", Vucic stressed. Vucic also said that there had not been a single word about recognizing Kosovo independence in the document that he and PM Dacic had accepted in Brussels on Friday.
Serbian Progressive Party and Socialist Party of Serbia, whose leaders are Vucic and Dacic, approved the Brussels agreement on Sunday. It is expected that the Government will do the same on Monday. The Brussels deal would also be discussed in Serbian Parliament this week.
Vucic said that he would discuss the agreement with the representatives of Serbs from northern Kosovo. Some of them are opposing the agreement. The protest against the deal is to be held in northern Kosovska Mitrovica on Monday.
Vucic did not exclude referendum about the agreement, but considered it as a "vast of time". Some political analysts think that the referendum would lead to a chaos.
Deputy PM said that after the signing of the agreement in Brusseles he received 850 threats what distressed him because no one could get used to that. Dacic also received a lot of threats.
The Members of Nationalist groups which are not in the parliament and which accuse Dacic and Vucic for "selling Kosovo", distributed leaflets with their phone numbers to citizens.
At the beginning of the Belgrade Marathon on Sunday, a citizen approached Dacic and asked him whether he could sleep well. Dacic answered positively.