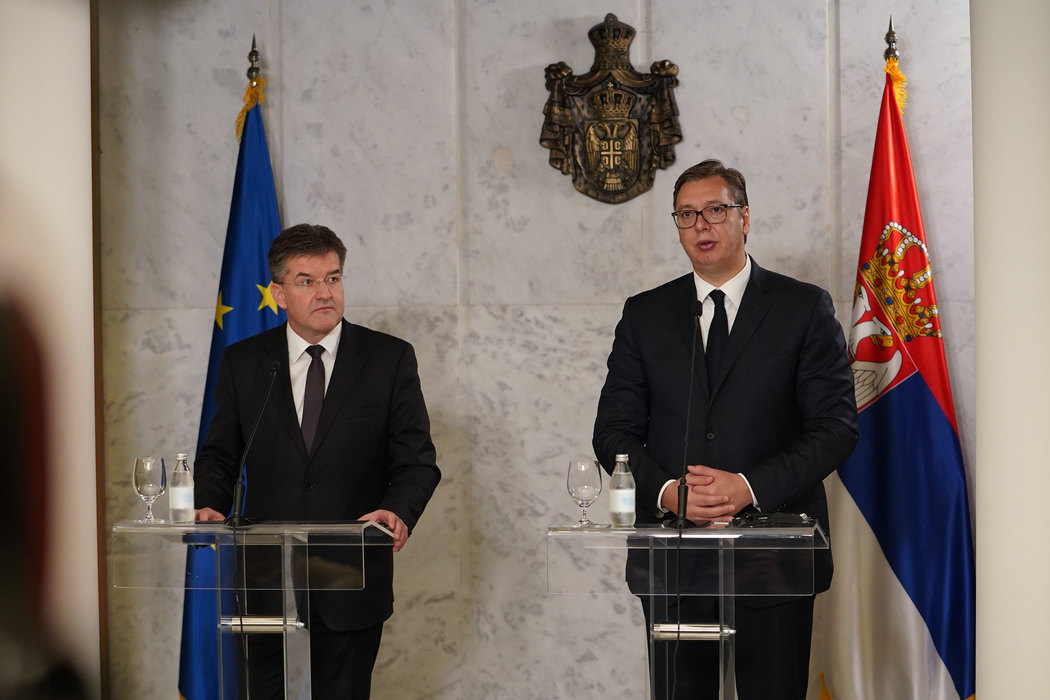 Serbian President Aleksandar Vučić received EU Special Representative for the Belgrade-Pristina dialogue Miroslav Lajcak on Thursday at the Villa Mir in Belgrade at 19:00 (local time).
Vučić and Lajčák discussed the progress made since the resumption of the EU-mediated dialogue in July, as well as the next steps in the negotiations for a comprehensive agreement.
After meeting with the EU Special Representative for the Belgrade-Pristina Dialogue, Miroslav Lajcak, Aleksandar Vučić said they had a good and rational conversation and agreed to continue the dialogue and Serbia's full commitment to the process.
"We have analyzed what has been achieved so far. We agreed on the continuation of the dialogue and the full commitment of Serbia to continue this process and the desire to find a compromise solution to establish better relations between Serbs and Albanians", the Serbian President said.
"I think we have expressed a common assessment that is good and satisfactory for the economic trends that exist and have not yet been encouraged between Belgrade and Pristina, because that is one of the most important things", Vučić continued.
"The European future is very important for Serbia because of more investments, because of the values ​​we fight for and support, and because Serbia's position will be stronger the closer we are to the EU, and this path is determined by how and what we do in our relations with Pristina", said the Serbian President.
Vučić pointed out that "I insisted on the full implementation of the Brussels agreement; I believe that this is a precondition for the successful continuation of the dialogue between the parties in the process".
He then thanked Miroslav Lajčák for his dedicated and diligent work and for "wanting to listen to both sides", stressing that "I understand how difficult his position is on how to conduct and end the dialogue. It is a very complicated job. I am grateful for this commitment. "It is better to have a dialogue, because if we do not talk, there may be incidents that endanger the interests and lives of people, both Serbs and Albanians", Vučić added.
Lajčák, for his part, reiterated that the aim of the talks is to normalize relations, which is in everyone's interest, and that the European Union is only there to help, not to force anyone to do anything.
"We cannot want normalization by asking from Serbia or Kosovo to do more", he reiterated, adding that "one goal is normalization and the other is the European perspective and the approach of the European Union".
According to him, there is a change compared to the last four months in terms of talks.
"We agreed on issues related to the missing persons. We are now dealing with property issues, issues related to the Union of Serbian Municipalities. The key issue or principle of this process is that no open or unresolved issues should be left in the end. We are dealing with unanswered issues. It is understandable that a number of these questions evoke emotions. Everything that has been agreed must be fulfilled. I was in Pristina for two days, I had a series of meetings. The bottom line is that everything that has been agreed upon must be fulfilled as agreed. The dialogue process continues; I believe it is in the interest of the citizens of Serbia and Kosovo, but also of the region", Lajčák stressed./ibna