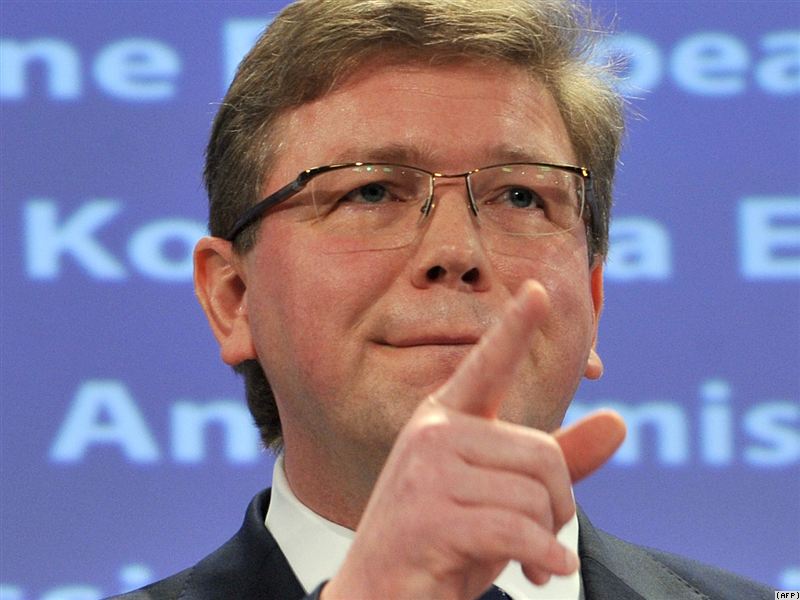 By Miloš Mitrović – Belgrade
Framework for Serbia-EU accession negotiations would be "definitely adopted" within a month and after that the talks would start, European Union enlargement commissioner Stefan Füle said in the interview for Belgrade's daily "Vecernje novosti".
Füle stressed that the negotiations would be highly interdependent with the process of the normalizing relations between Belgrade and Priština.
Talking on the future accession talks, Füle said that the rule of law and especially judiciary reform and anti-corruption struggle would be among the "key issues". In this regard, EU commissioner emphasized that "very active process had already been launched by analytical reviewing of the negotiation chapters 23 and 24".
"Additionally, Serbia will have to be entirely engaged in comprehensive reforms in public administration, including both its capacity and the management of the public finances. Improving capacity of the local self-governance is very important too, because the majority of future EU policies – in ecology for instance – will be implemented in the local administration, Füle said.
When asked whether the Kosovo issue would be the priority in accession negotiations, Füle emphasized that the normalization of the relations between Belgrade and Priština would be closely tied with the Serbian membership talks "in accordance with the conclusion of the European Council which have been adopted in June".
Füle alluded to EU summit recommendation from 28 June which has suggested the accession talks with Serbia to start "at the latest in January 2014". The full implementation of the Brussels agreement between Belgrade and Priština, which had been initialed in April, was imposed as the precondition for the accession talks.
"Appropriate level of the normalization of the relations with Kosovo should be gradually reached in order that both sides would continue their path toward the EU, without blocking each other", EU commissioner rendered.
He reiterated that "EU does not demand Serbia to recognize Kosovo".
On journalist's remark "how it was possible EU to start Stabilization and Association (SAA) process with Priština", given the fact that Kosovo was not internationally recognized as a state, Füle said that "opportunities for the EU to conclude international agreements have not been limited to internationally recognized states". He explained that EU, with regard to international agreements, does comply with international public law. According to Füle, launching SAA process with Priština did not jeopardized EU's neutrality status with regard to Kosovo.