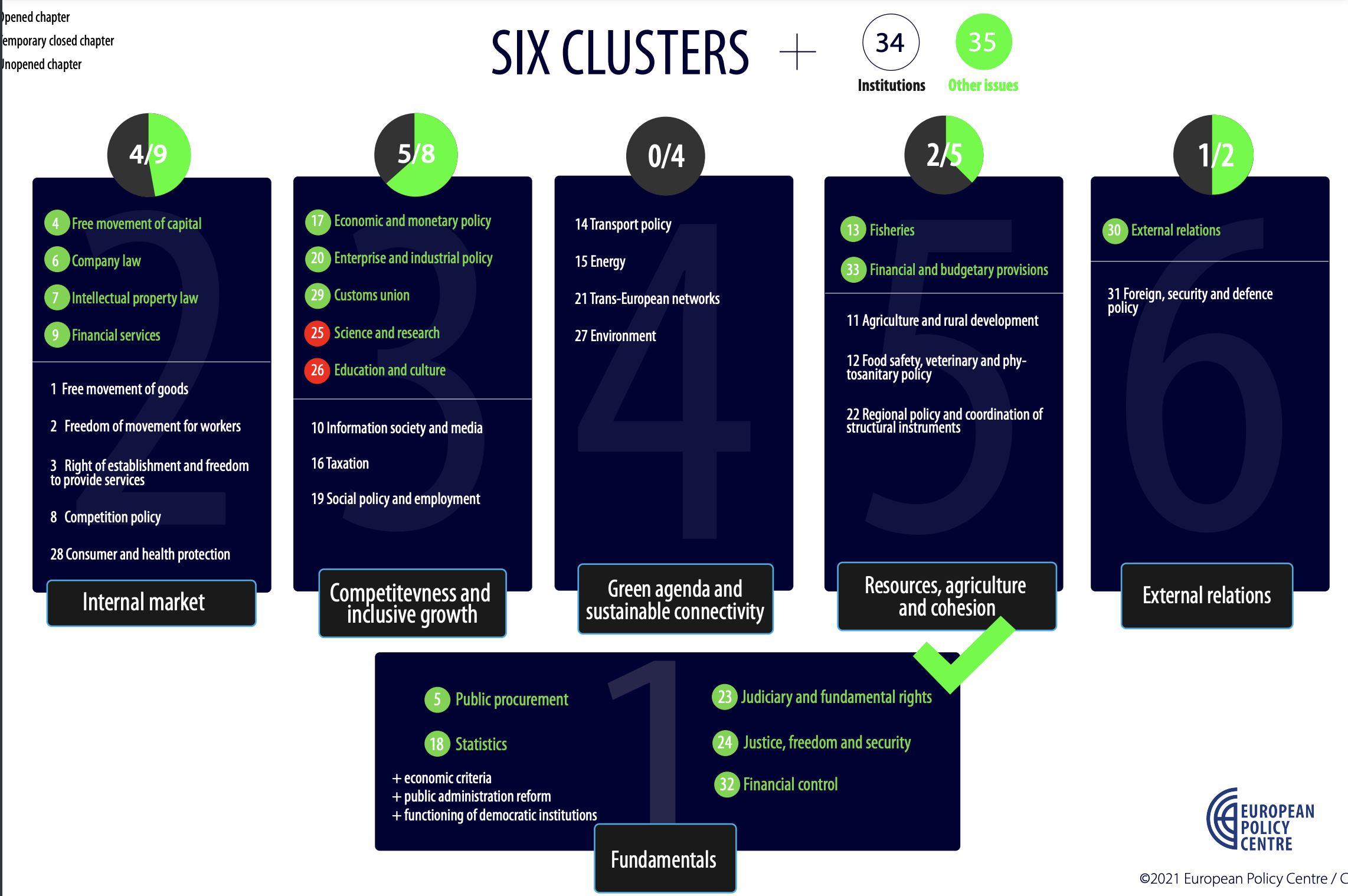 Serbia's path to the European Union following the French initiative has taken a new "course", as the new accession methodology now provides for clusters instead of individual chapters to complete the process.
As the new methodology is still being harmonized, it is not entirely clear whether it will be faster than the previous process. What is certain, however, is that this will depend on both the country seeking to join and the EU Member States themselves.
The new process is broken down in infographics by the Center for European Policies (CEP) following its approval by the EU Council on enlargement in March 2020.
Although primarily set up for implementation in the accession processes of Albania and North Macedonia, the proposed changes can be adapted to Serbia's existing negotiations.
The six thematic units
1. Basic chapters
In the first cluster which focuses on fundamental rights and includes the rule of law, justice and democratization, Serbia has opened every chapter:
Chapter 5 – Public procurement
Chapter 18 – Statistics
Chapter 23 – Judiciary and fundamental rights
Chapter 24 – Justice, freedom and security
Chapter 32 – Financial control
2. Internal market
In the second cluster, which refers to the internal market and the free flow of goods, capital and labor, four chapters have been opened while nine remain closed.
Opened chapters:
Chapter 4 – Free movement of capital
Chapter 6 – Company law
Chapter 7 – Intellectual property law
Chapter 9 – Financial services
3. Competitiveness and inclusive growth
Of the eight chapters in the third cluster Serbia has opened five, while two of which are temporarily closed.
Open chapters:
Chapter 17 – Economic and monetary policy
Chapter 20 – Enterprise and industrial policy
Chapter 29 – Customs Union
Temporarily closed:
Chapter 25 – Science and research
Chapter 26 – Education and culture
Closed chapters:
Chapter 10 – Information society and media
Chapter 16 – Taxation
Chapter 19 – Social policy and employment
4. Green agenda and sustainable connectivity
In the fourth cluster related to green design and sustainable connectivity, that is, sectors from transport to ecology, no chapter has been opened
Chapter 14 – Transport policy
Chapter 15 – Energy
Chapter 21 – Trans-European networks
Chapter 27 – Environment
5. Agriculture resources and cohesion
In the fifth cluster, Serbia has opened two of the five chapters.
Open chapters:
Chapter 13 – Fisheries
Chapter 33 – Financial and budgetary provisions
Not open:
Chapter 11 – Agriculture and rural development
Chapter 12 – Food safety, veterinary and phytosanitary policy
Chapter 22 – Regional policy and coordination of structural instruments
6. External relations
The sixth cluster includes the alignment of the candidate country with EU foreign and security policy. Serbia has opened one of the two chapters.
Open chapters:
Chapter 30 – External relations
Closed:
Chapter 31 – Foreign policy, security and defense policy
Two chapters are not included in any of these six blocks.
Chapter 34 is not included in the clusters, as it cnstitutes the final chapter that comes at the end of the negotiation process, when it is already certain that the candidate country will join the EU. This determines how many representatives the country will have in the institutions of the European Union, but also what the distribution of votes will be in certain bodies, and how the number of votes that this state will have will be calculated.
Finally, Chapter 35 in the case of Serbia refers to the issue of Kosovo. In fact, it is one of the chapters that clearly defines Serbia's European course. Currently no one can determine whether and when the matter will be resolved, but today the EU, and possibly the United States, will insist on resolving the issue. /ibna