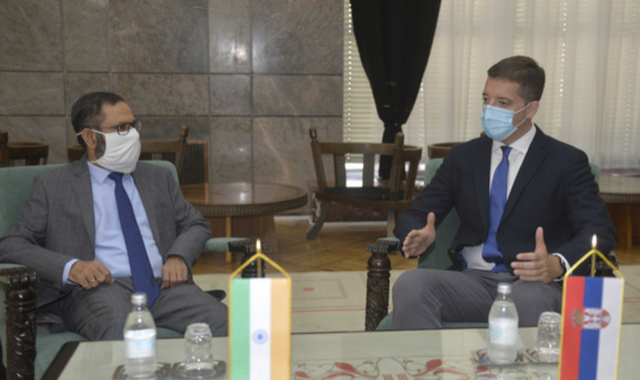 The Director of the Office for Kosovo and Metohija, Marko Đurić, spoke with the Ambassador of India to Serbia, Subrat Bata Bardžija, about the progress of the political and special dialogue between Belgrade and Pristina, stating that Belgrade is steadily committed to solve the problem through dialogue.
Belgrade will not respond positively to any possible attempt to impose a solution by force, Đurić told the ambassador.
"The issue of Kosovo and Metohija is a serious and wide-ranging international legal issue, and it is understandable that many countries are following with great interest the political and diplomatic developments on this issue", Đurić said.
The director of the Office for Kosovo and Metohija said it was important for Serbia to have a large and influential state like India on its side on the international stage.
"Thanks to this support, today we can say that convincingly the majority of humanity does not support the unilaterally declared independence of Kosovo", Đurić said.
"According to Đurić, Serbia will continue to build relations of cooperation and trust with India in the spirit of traditional friendship and to support the building of peace, stability and progress on the Indian subcontinent". /ibna