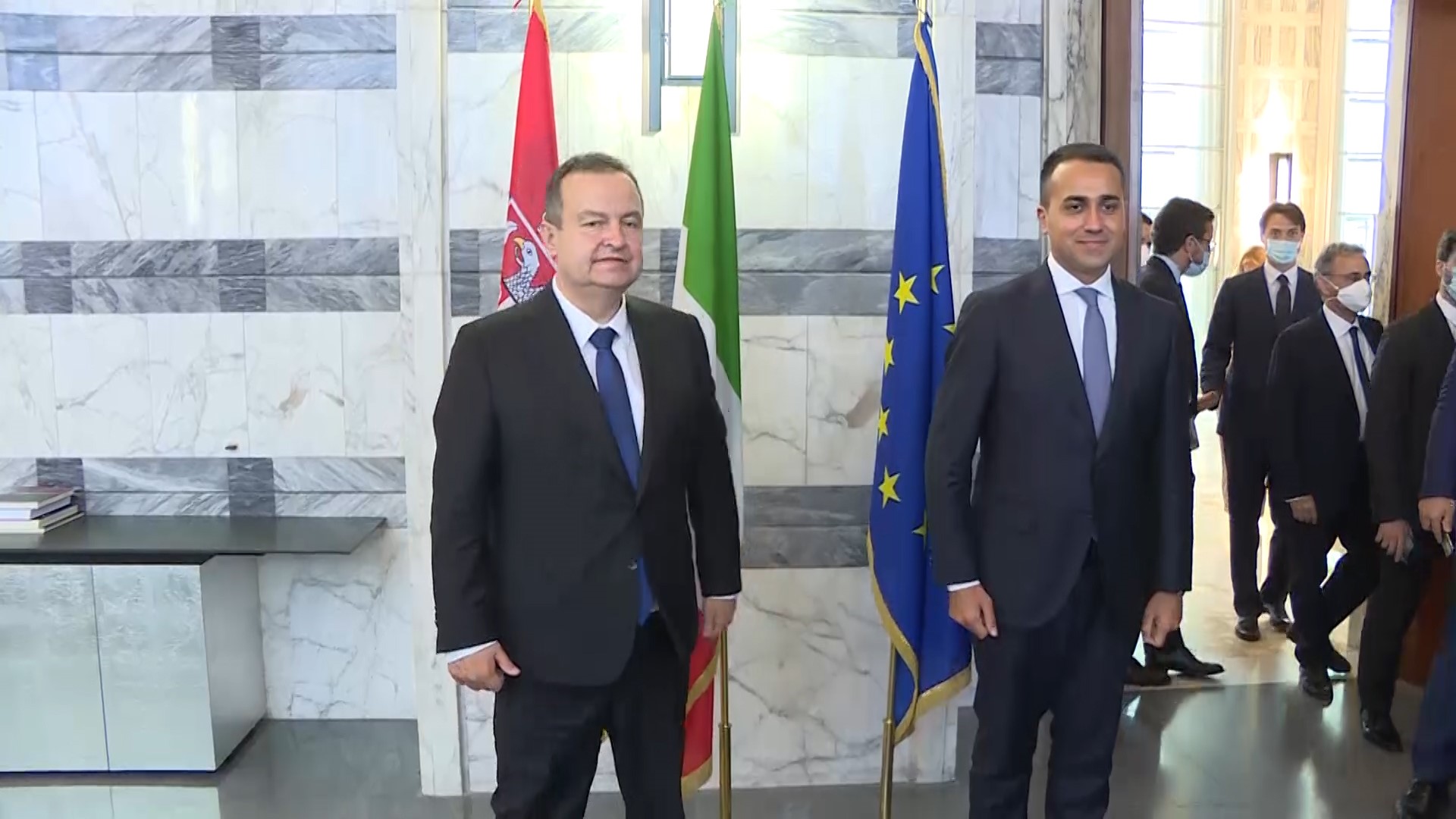 Serbian Foreign Minister and First Deputy Prime Minister Ivica Dačić paid a one-day visit to the Republic of Italy on Thursday, where he had a working meeting in Rome with Foreign and International Cooperation Minister Luigi Di Maio.
"I am very happy that my first visit, after easing the restrictive measures on Covid-19, was to Italy. This visit reflects our great friendship and respect.
On behalf of Serbia, President Vučić, Prime Minister Brnabić and myself, I would like to express my deep and sincere condolences to the families of the coronavirus victims and to say that these difficult times, through humanity and solidarity, contributed in our peoples coming closer together.
We are slowly beginning to organize life within the new coronavirus reality, we are beginning to lift the restrictive measures and restore our diplomatic and political activities.
Italy is a friendly country to Serbia; we thank you for your help and support in the process of our European integration and we would like, in the true sense of it, for Italy to be the Ambassador of Serbia and our European path to the EU.
Today, we discussed our bilateral relations, the need to continue where we left off in organizing our bilateral activities, including the meeting of the two governments, which we plan to hold by the end of the year.
We also talked about our economy and economic cooperation, as well as the need to recover our economies as a whole.
Ultimately, what our citizens are most likely to be interested in is what will happen with the borders, that is, the restoration of the movement of people between countries. And we talked about that. Serbia has already decided that Italian citizens can travel freely to Serbia, both without testing and without the need for quarantine or isolation. We expect a similar decision to be taken by Italy for our citizens, of course in accordance with the general decisions taken by the European Union.
According to information from Brussels, it is expected that from July 1, the European Union will propose to all Member States that citizens of the Western Balkans will be able to travel to the European Union, but this will be discussed in the coming days between the EU members.
I thank you again and I am glad to see you, and to continue, having survived a difficult period and I hope that we will have the same successful cooperation as before", Dačić said in a press conference.
Speaking to the Press, Minister Dačić also referred to the dialogue between Belgrade and Pristina. "Since the new government has abolished these so-called reciprocal measures and before that the duties, the conditions for continuing the dialogue are met. President Vučić will talk about this with European officials, especially Borrell and Lajčák, after elections take place in Serbia. As you know, we are ready to continue the dialogue. We want a lasting solution, a compromise, but at the moment it is too early to talk about all this, because there has not been a dialogue for a long time, as the process was blocked above all by the unilateral decisions of Pristina. What is also important is that we are grateful to everyone who can help in this dialogue or seek reconciliation. I note once again that before that it is equally important for the Pristina authorities to state whether they respect what has been agreed so far or not, whether they respect the Brussels Agreement, or whether we are now starting negotiations from scratch, which is completely unacceptable for us, because the European Union was the guarantor of the signing of this agreement", Dačić concluded. /ibna