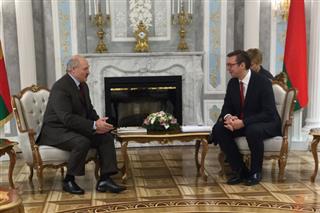 "We will do everything we can for Serbia", Belarus president Alexander Lukashenko said after meeting with prime minister Aleksandar Vucic in Minsk on Friday. Vucic said that they have discussed "acquiring weapons" for Serbia and announced it would be further tackled in April, during Lukashenko's planned visit to Belgrade. "He has an excellent understanding of the policy of our country", Vucic said.
Serbian premier explained that economic cooperation was the main issue adding that the joint aim of the two countries is to increase the annual trade exchange  to half billion euros.
Vucic officially invited Lukashenko to visit Serbia.
Stressing that the two countries have "mutual history and roots", Lukashenko said that there are no disputes between Belgrade and Minsk and that Belarus will "always support the territorial integrity and sovereignty of Serbia".
"We have always supported you, even in the toughest times, and we always will. We did so even if it was not good for us. We had a principled position, including the one on unity of your country. Therefore, you can count on Belarus. You should know that we will do everything we can for Serbia", Lukashenko told Vucic.
At the same time, Belarus president said there is a room for further advance in cooperation for the sake of survival and development in "this turbulent world".
After the meeting with Lukashenko, Vucic told journalists that talks lasted twice as long than it had been planned. Reiterating that Serbia "is an independent country which conducts its own policy", Vucic said that Lukashenko told him about his "excellent understanding" of Belgrade's position. Serbia is in European path, but it does not want to become a NATO member state, he went on.
"We are grateful to him because of it (understanding) and we will have ever closer cooperation", the PM concluded./IBNA
Photo: Tanjug