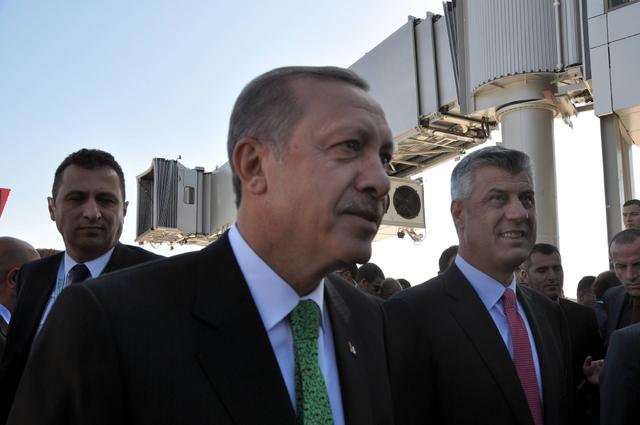 By Miloš Mitrović – Belgrade
"Statement by Turkish Prime Minister Recep Tayyip Erdoğan which claimed Kosovo was his another homeland cannot be considered as a friendly one", Serbian Ministry for Foreign Affairs announced on Thursday.
"It (such claim) contradicts to relations we have with top Turkish officials. The town of czar Dušan (Prizren) is probably the most inappropriate place such a statement to give. Everybody in the world knows that Kosovo is both Serbian word and territory, even those which have recognized false state in Kosovo", Serbian Ministry emphasized.
Serbian Prime Minister Ivica Dačić said that Erdoğan`s statement was undiplomatic. "It is not helpful with regard to political stability in Kosovo and Metohija", Dačić told for Friday`s edition of daily "Večernje novosti".
Deputy PM Aleksandar Vučić, who was in visit to Israel, said that Erdoğan should apologize to Serbia. "Erdoğan knows very well that Kosovo has not been Turkey since the end of Balkan wars".
On Wednesday, Erdoğan in Prizren said that "the cultures of Kosovo and Turkey can differ, but the citizens of both belong to same country". Erdoğan visited Kosovo accompanied by Albanian PM Edi Rama and more than 600 Turkish businessmen and public figures as well. Erdoğan and Rama had a meeting with their counterpart in Priština  Hashim Thaçi .
"Dear brothers and friends, we share the same history of culture and civilization. Do not forget, Turkey is Kosovo, and Kosovo is Turkey", Erdoğan stressed adding that composer of Turkish national anthem Âkif Ersoy was born in Kosovo.
Thaçi thanked Turkish PM for an extraordinary close and comprehensive cooperation between Kosovo and Turkey, Priština`s media reported. He recalled that Turkey was the first country to recognize unilaterally declared independence of Kosovo in 2008.
Albanian PM Rama said that the citizens of Kosovo and Turkey were brotherly nations committed to improve their future.
The new Turkish terminal has been opened at the Priština airport during Erdoğan`s visit.  Limak, the Turkish construction firm made joint venture with France's Aeroport de Lyon in 2010 to build the terminal building and accompanying facilities for Priština airport to a tune of a 140 million euro investment.
"Kosovo has now been given the most modern and beautiful airport in the Balkans. Investments in Kosovo by Turkey's private sector have now reached 335 million Euros, while investments in our contracting sector have reached 800 million Euros", Erdoğan said.